'I hate you damn swine': Swedish driver filmed kicking Syrian asylum seeker (VIDEO)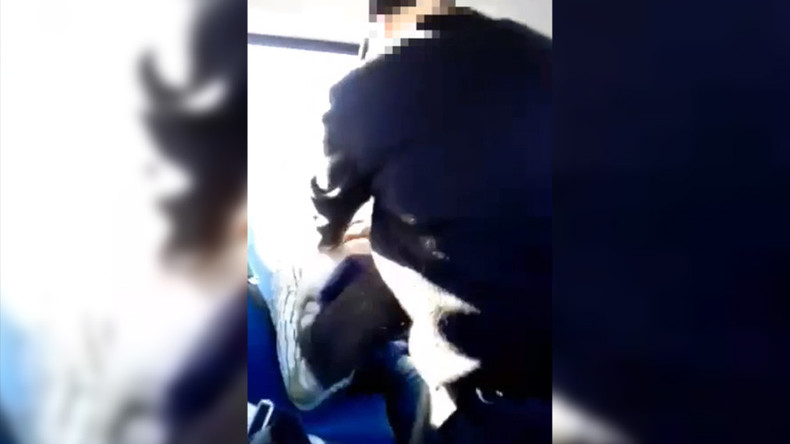 A bus line in Sweden suspended one of its drivers after he was accused of physically and verbally assaulting an asylum seeker. The incident, which involved the driver beating the refugee, was filmed by a witness.
The violent altercation happened on Tuesday on the island of Öland off the Sweden east coast, which hosts a refugee center. The man identified by the local media as Muhammed, who fled the Syrian war, is one of its residents.
In an interview with the Local, he said he wanted to board a bus on Tuesday morning, but the driver closed the door in his face.
A neighbor gave him a lift in his car to the next bus stop, where Muhammed boarded the vehicle. He said he took a picture of the driver, because it was not the first such incident and he wanted to report him.
When the bus reached the next stop, the driver got up and tried to take a picture of Muhammed, but he covered his face. This is apparently when another passenger started to film the argument. The regional newspaper Barometern, which broke the news, published the video.
The footage shows the driver and Muhammed arguing about taking a picture. The altercation escalates and becomes physical, as the driver tears on the man's clothes, kicks him in the head and slaps him repeatedly on the back of his head while saying: "I hate you damn swine."
The report does not explain why the bus driver and Muhammed addressed each other in English while the interview the asylum seeker later gave to Barometern was in Swedish.
A spokesperson from the bus company, Nobina, said the driver had been suspended and that a disciplinary investigation was underway.
"I've only seen the video, but it's incredibly tragic and unpleasant to watch, and of course it's unacceptable and nothing we support," the company told the Local.
The incident was reported to the police. The bus driver reportedly filed a complaint, saying he received a slap on the arm during the altercation.