Pegida launches political party amid impending ban over extremism
Lutz Bachmann, founder of the anti-immigrant and anti-Islamic Pegida movement, has announced the establishment of a new political party. The long-expected move allegedly comes in response to German authorities mulling a ban on Pegida.
The new group would be called the Popular Party for Freedom and Direct Democracy (FDDV), with Bachmann first saying he wanted to develop a "parliamentary arm" over a year ago.
The leader of the far-right party stressed that his new brainchild would not pit against the far-right Alternative for Germany (AfD) party.
Read more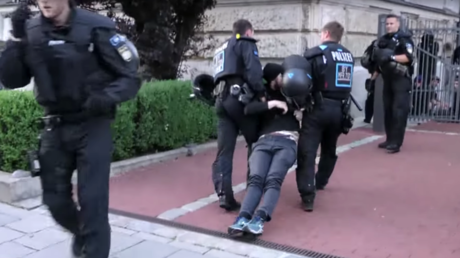 "We shall support the AfD in the next elections, and shall only field candidates in a limited number of constituencies," Bachmann said at a weekly meeting in the eastern German city of Dresden, DPA reported. Relations between the two far-right movements are good, he noted, highlighting the importance of "working together."
The AfD, which was set up just three years ago, won the recent elections in three regional governments in March, gaining huge popularity in Germany. The populist party has been widely criticized for going overboard with its increasingly anti-Muslim stance. Earlier this year delegates from the anti-immigration AfD party backed an election manifesto which slams Islam as incompatible with the constitution and calls for a ban on Islamic symbols.
"Islam is foreign to Germany, it cannot invoke the principle of religious freedom to the same degree as Christianity," Hans-Thomas Tillschneider, an AfD lawmaker from the state of Saxony-Anhalt, said in May.
Outraged by AfD leaders' rhetoric, the Council of Muslims in Germany has compared the party's ideas to "Nazi" ideology, stressing Islam is no different from Judaism or Christianity.
In May, a Dresden court ruled that the founder of the Pegida movement was guilty of inciting hatred towards refugees in a series of FB posts in which he labelled the migrants "cattle" and "scum."
Read more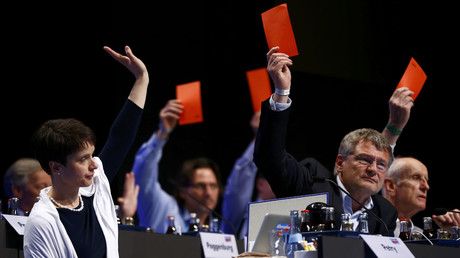 Bachmann's lawyer claimed that the posts in question were not authored by Bachmann, but rather had been added by an unidentified perpetrator who hacked into her client's account. But presiding Judge Hans-Joachim Hlavka dismissed claims of false authorship. Although the prosecution demanded a seven-month jail term for him, the court chose a softer sentence, ordering him to pay a fine of €9,600 ($11,044), which is the equivalent of €80 per day for 120 days. Bachmann, 43, repeatedly claimed that the proceedings against him were politically motivated, branding the process as "a constructed and politically-motivated trial."
Bachmann was forced to temporarily leave his post as Pegida chairman in January last year after a selfie of him styled as Hitler surfaced on the web. He argued that the photo was a satirical take on the bestselling German satirical novel 'Look Who's Back', which involves Adolf Hitler reappearing in modern-day Berlin.
Pegida (which stands for 'Patriotic Europeans Against the Islamization of the West') has been exploiting the anti-immigrant agenda since its emergence in Dresden in late 2014. The movement has gained popularity in Germany and overseas, holding rallies against 'Islamization', refugee and Angela Merkel's open-door migrant policy. At its peak, Pegida meetings attracted some 25,000 supporters.