Police let Nice attacker through 'after he said he was carrying ice cream'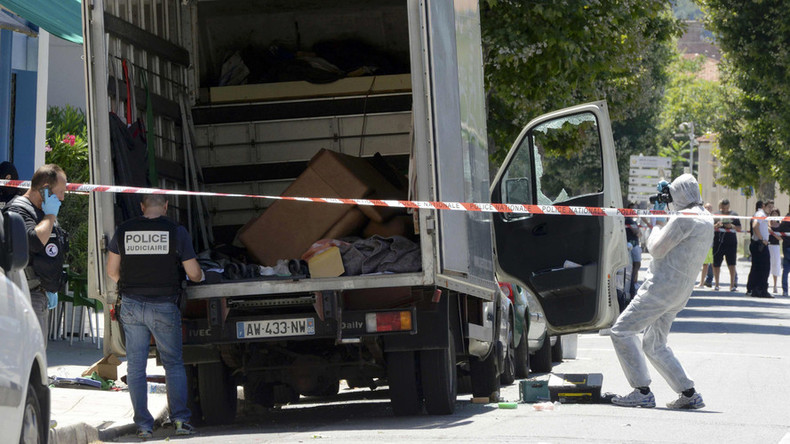 The attacker who killed at least 84 people, including 10 children and teens, by driving a truck into a crowd of spectators that had gathered to watch Bastille Day fireworks in Nice, France, told police he was delivering ice cream to the crowded embankment.
FOLLOW NICE ATTACK LIVE UPDATES
Mohamed Laouaiej Bouhlel parked his truck on the promenade nearly nine hours before the attack, French media report, citing police sources. When police officers approached him, he told them that he was delivering ice cream and they allowed him to stay parked on the beachfront without checking his vehicle.
"Although the Promenade des Anglais should have been closed for vehicles, Bouhlel managed to get there by telling [police] he had to deliver ice cream," French M6 TV channel reported.
Although heavy trucks are usually not permitted to drive into the city during national holidays or on Sundays, deliveries are often exempted.
According to some reports, the attacker spent the nine hours in his truck waiting for the revelers to turn out for the evening before plowing his vehicle into the crowd. Other media reports said that he had left the parked truck and later returned by bicycle. A bicycle was found in the truck by police.
The killer also reportedly parked his vehicle on the beachfront before 15:00 (local time) (14:00 GMT) when the roads leading to the promenade were shut as the city was preparing for the celebrations.
Bouhlel allegedly rented the 19-ton truck from a specialist garage at Saint Laurent du Var near Nice Airport several days before the attack. Police discovered CCTV footage of the moment when the man got into the vehicle in the hills surrounding Nice, French media report.
READ MORE: 'We knew such an attack would happen, French authorities do nothing to prevent them' – local to RT
He got his driver's license a year ago and found a delivery job at a small transport company, as reported by TASS.
He had also earlier been repeatedly reported to police for theft and "acts of violence and use of weapons," according to reports cited by the Daily Mail.
READ MORE: Pic of doll next to dead body becomes online symbol of Nice tragedy
As some 30,000 people gathered on Nice's Promenade des Anglais on Thursday to watch the fireworks show celebrating the Bastille Day – a French national holiday marking the beginning of the 1789 revolution – Bouhlel drove his truck through the crowd for more than a mile (about two kilometers), killing 84 people and injuring more than 200. Ten of the victims were children.