Pic of doll next to dead body becomes online symbol of Nice tragedy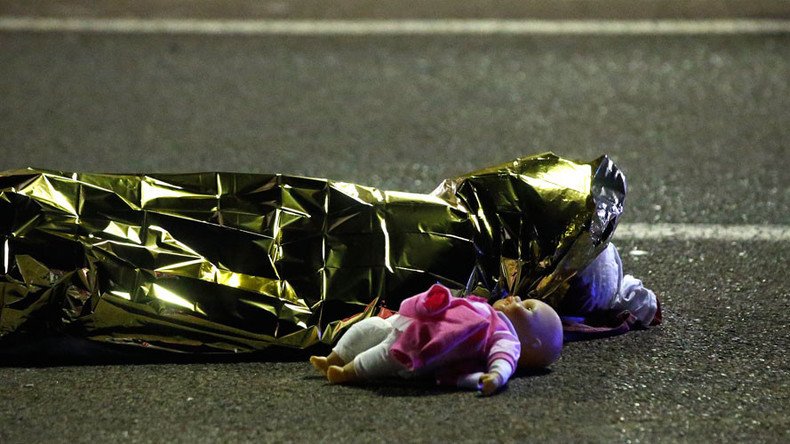 "Why are the innocent first to die?", "This is not human" – social media users are in shock sharing a harrowing photo of a doll lying next to a dead body following the truck attack in Nice.
READ MORE: France vows to retaliate for Nice attack, extends state of emergencyLIVE UPDATES
The photo was taken by Reuters photographer Eric Gaillard and was quickly shared on social media. It's not clear who exactly is lying next to the doll or to whom the doll belongs, but the reaction on Twitter was one of pain and anguish.
"Here is a small girl with a doll. Tonight in Nice. The innocent are always the first victims," @PsychoMoqueuse wrote.
"The image of the little girl with the doll breaks my heart. It really happened. This is horrible…"
"I am looking at the picture and I hate these people [who attacked]," @flayti Twitter user wrote.
"No ideology … could be more valuable than the life of this child," another user @06Black_Eagle added.
"A photo of a body on the promenade [des Anglais] in Nice. A doll lying next to it. Does God accept the killing of children in his name?" @fredisblog asked.
"These people deserve the worst," wrote @mathildeseptva1
Some users compared the harrowing picture to that of Syrian toddler Aylan Kurdi, who drowned on a perilous journey across the Mediterranean Sea in September 2015.
Dozens of children suffered in the Bastille Day attack, according to Nice Matin newspaper.
READ MORE: 'We knew such an attack would happen, French authorities do nothing to prevent them' – local to RT
At least 84 people have been killed after a truck plowed through a crowd during celebrations in Nice, in what has been called in the city's history. Weapons and grenades were found in the vehicle following the attack.
The truck driver, who was eventually killed by police, was a 31 year-old French-Tunisian, born in Tunisia, a police source close to the investigation told Reuters. French intelligence services had not been watching him, but he was known to police in connection with common law crimes such as theft.
You can share this story on social media: