What we know about Nice suspect: Father of 3, solitary & not very religious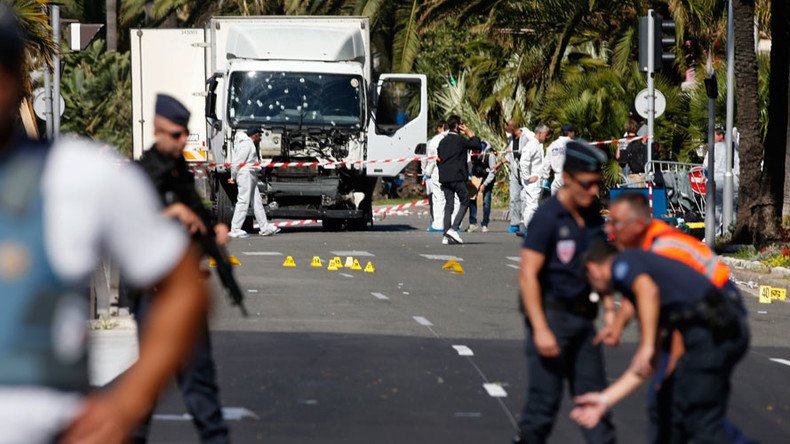 Who was the man behind the Bastille Day attack in Nice that killed at least 84 people? RT looks into the facts and story of the 31-year-old French resident from Tunisia so far revealed by officials and local media.
FOLLOW NICE ATTACK LIVE UPDATES
- French resident of Tunisian origin, 31
- Father of three, divorced
- Solitary, reportedly suffering from depression
- Not religious
- Convicted of road rage
After police finally neutralized the attacker, they searched the truck and managed to find ID papers belonging Mohamed Lahouaiej Bouhlel, a 31-year-old French resident who was born in Tunisia, sources told media.
Later heavily-armed police forces searched an apartment in a working-class neighborhood in Nice where the alleged attacker lived.
Police have found no weapons or explosives at the home of the assailant during the searches, iTele reported. Experts seized a computer for examination.
The Nice attacker's identity has been confirmed as Mohamed Lahouaiej Bouhlel, Paris Prosecutor Francois Molins told journalists, adding that the truck driver's identity was verified from his fingerprints.
The neighbors described the attacker to Nice Matin newspaper as a solitary figure who even didn't return greetings when their paths crossed. According to Sebastien who lived next to him, Bouhlel did not seem overly religious, was often dressed in shorts and sometimes wore work boots.
Meanwhile, the attacker's brother told journalists he does not believe that Bouhlel could commit a terrorist attack out of religious motives as he was not religious at all.
"Mohamed could not do anything like this. He did not pray, he was not religious, he did not observe religious rituals. I do not believe that he could do it out of religious or extremist motives," the attacker's brother said, adding that Bouhlel was actually planning to go on vacation to the Tunisian city of Sousse in the coming days.
He was "a good-looking man who kept giving my two daughters the eye," one female neighbor told the paper.
"He was divorcing or divorced with three kids," another neighbor Mohammed said, adding that that Bouhlel had been very nervous recently.
Bouhlel also reportedly suffered from depression because of a divorce and financial problems.
"I would say he was someone who was pleasing to women," Hanan, also a neighbor, told Reuters.
"But he was frightening. He didn't have a frightening face, but ... a look. He would stare at the children a lot," he added.
According to the daily, Bouhlel must have arrived in France in the 2000s. He had a French residence permit for the past 10 years but never obtained French citizenship, Reuters reports, citing Tunisian sources.
A year after his arrival, he reportedly got into a traffic accident that led to his arrest.
In March of 2016, he was arrested again – this time for "road rage" – and convicted for the first time, French Justice Minister Jean-Jacques Urvoas said, as reported by Reuters.
"There was an altercation between him and another driver and he hurled a wooden pallet at the man," Urvoas told reporters. Bouhlel was given a suspended sentence because it was his first conviction. He had to contact police once a week, which he did, the minister added.
It was probably 'a petty crime' for which he was known to French authorities.
Several photos of the alleged attacker have been circulating on social media, but police are yet to confirm any of them.
The ex-wife of the attacker has been held for questioning, BFMTV reported.
Tunisia initially remained silent about the attacker and didn't comment on his nationality. Later Tunisian security sources told Reuters that he came from the town of Msaken, north Tunisia, which he last visited four years ago. However, the attacker was not known to hold radical or Islamist views.
READ MORE: 'We knew such an attack would happen, French authorities do nothing to prevent them' – local to RT
Also two French officials told AP on condition of anonymity that an ID matching the man described in media reports was found in the truck. Nice Matin newspaper also said that a bank card and a phone were found in the truck. It's not yet clear if they belonged to the attacker or not.
At least 84 people were killed and a further 100 injured when a truck rammed into a crowd during celebrations in Nice, in what has been called in the city's worst terror attack in history. Weapons and grenades were found in the vehicle following the rampage. The shooter was killed by police.
WATCH MORE:
You can share this story on social media: