Military take media hostages at Hurriyet, CNN Turk offices – reports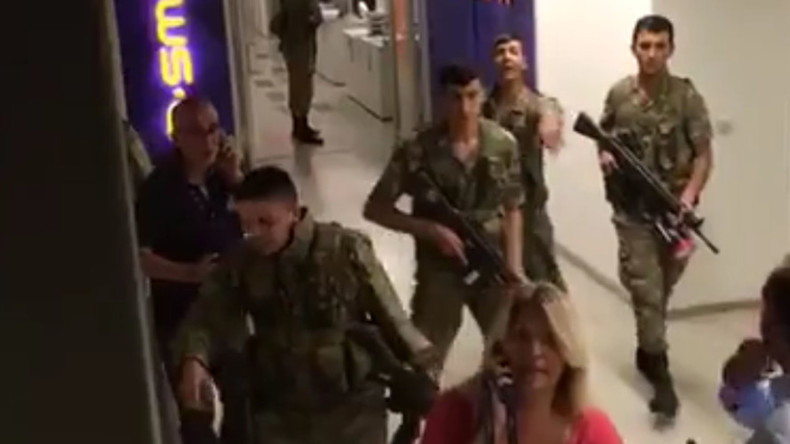 Soldiers taking part in the military coup attempted to take over the private CNN Turk and Hurriyet media outlets, storming the buildings and taking several journalists hostage. CNN Turk has since resumed its broadcasts.
Earlier, CNN Turk halted its news broadcast after soldiers stormed the control room. Reuters reported that the sound of shots being fired was heard on air.
The presenter said the soldiers ordered the channel's employees to leave the building. The journalists were reportedly told to turn off their cell phones.
According to BNO News, some civilians entered the studio in an attempt to stop the soldiers.
READ MORE: Erdogan lands in Istanbul, giving speech
Meanwhile, anti-coup protesters gathered outside the building, chanting slogans in support of the channel.
A hostage situation is reportedly ongoing at the Hurriyet newspaper office, according to tweets from Hurriyet journalist Emre Kizilkaya, who managed to get out of the building that was seized by the military.
"Soldiers took some journalists as hostages. So police can't intervene now," he wrote, adding that he saw special police units approaching the building as he escaped.
Hurriyet`s editor-in-chief, Sedat Ergin, said the newspaper would not publish its morning issue after it was forbidden to do so by soldiers.
"We are not allowed to print it," he told TRT.
Police have raided the Doğan Media Center, where Hurriyet's newspaper office is located.
The special police units have reportedly deployed tear gas against the pro-coup soldiers in the course of the operation.
The two journalists that were freed during the raid are "fine, just traumatized," Kizilkaya wrote.
A police officer has been injured, he added.