'Not going anywhere': Erdogan gives defiant Istanbul airport speech, downplaying attempted coup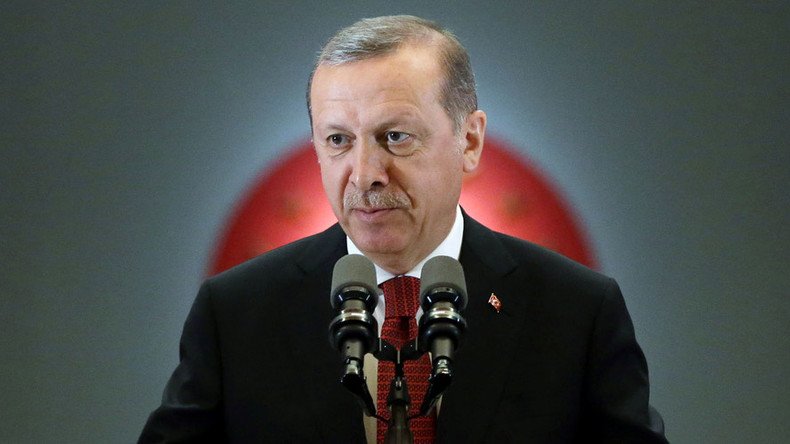 Recep Tayyip Erdogan has made a public statement on the attempted coup after his plane landed at Istanbul's Ataturk Airport early Saturday morning. The Turkish president blamed the bloody events on forces loyal to exiled cleric Fethullah Gulen, saying they would pay for it.
Erdogan has addressed crowds of supporters after emerging at Ataturk Airport.
Having thanked the public and politicians for their support, the president said that Turkey would not be intimidated by illegal attempts to seize power.
He said those involved in the military coup will get necessary response, regardless of what institution they are from.
Reassuring the audience that "the minority group" behind the attempted coup would pay for what they had done, Erdogan said the people of his country would stand up straight and strong.
Saying that the law is above all in Turkey, the president said that people going into the streets to support it was "the best answer" to those who tried to forcefully seize power.
Erdogan called the attempted coup "a gift from God," as it would help cleanse the military of "members of the gang," he was reported as saying.
Erdogan claimed that forces loyal to US-based cleric Fethullah Gulen were behind the attempted coup, saying that Friday's events had shown that "the Gulen structure is an armed terrorist organization." The exiled preacher has resided in the US for over 15 years. Initially a firm ally of Erdogan, Gulen is now facing a potential life sentence in Turkey for orchestrating an earlier coup attempt as the two fell out.
Announcing that he was not going anywhere, the Turkish president said he would stay with his people.
The president confirmed that Turkey's Secretary-General had been kidnapped by the military behind the attempted coup, adding that the status of the head of the General Staff was unknown to him at the time of the speech.
He also said that fighter jets have been dispatched to eliminate a helicopter attacking the parliament building in Ankara.
READ MORE: Ankara parliament building 'bombed from air' – state agency
President Erdogan was reportedly in Turkey's Mediterranean resort town of Marmaris at the time the events began to unfold in Ankara and Istanbul. There was an attempted attack on him on his way to Istanbul, the president said, claiming that the pro-coup forces have bombed Dalaman, but he had left it by then.
Earlier, the alleged presidential plane could be seen circling above mainland Turkey on the FlightRadar24 tracker, before heading to Istanbul.
Unconfirmed reports of explosions were coming from the airport following the landing of the plane, as some military aircraft allegedly flew by.
READ MORE: Erdogan calls people onto streets on CNN Turk via mobile phone, says 'will overcome' coup
WATCH MORE:
You can share this story on social media: