Ankara chaos: All-out war with helicopters, fighter jets, tanks, casualties reported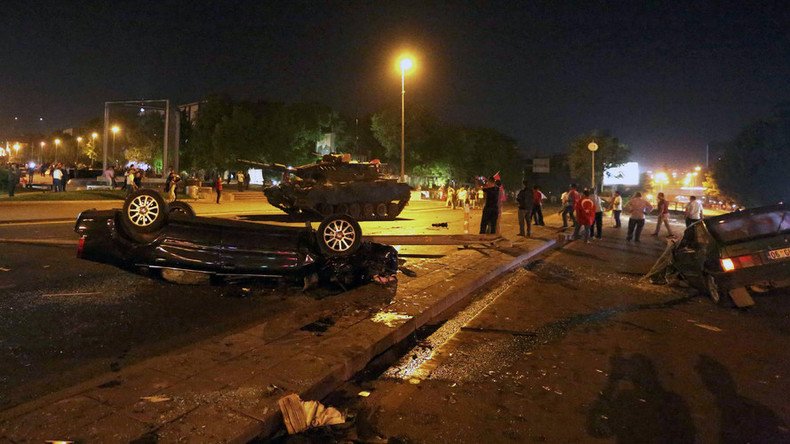 A Turkish F-16 fighter jet has reportedly shot down a military helicopter used by the pro-coup faction of the Turkish army, local broadcaster NTV reported, as reports suggested the capital of Ankara descended into chaotic clashes involving civilians and military.
A military helicopter was spotted opening fire above Ankara, Reuters reports, citing witnesses. Other reports claim that a loud explosion occurred at the headquarters of state broadcaster TRT.
Multiple reports of explosions and shooting are coming out of Ankara, with some stating that at least four explosions were heard.
Tanks are opening fire around the Turkish parliament building, Press TV reports.
Turkish-based journalist Diego Cupolo has tweeted that shots were fired near the parliament building in Ankara.
Eyewitnesses said a military helicopter opened fire over Ankara, which was followed by sounds of explosion.
Images from Ankara show heavy smoke rising over the skyline.
A Reuters eyewitness reported hearing gunfire at Istanbul airport.
Military helicopters began to fire at National Intelligence Agency HQ in Ankara, state-run Anadolu Agency reported.


Fire exchange between police and military has all been reported at Kizilay neighborhood in central Ankara.
DETAILS TO FOLLOW
You can share this story on social media: