Epic bonfires light up Northern Ireland skies & destroy homes during 11th Night celebrations (VIDEO)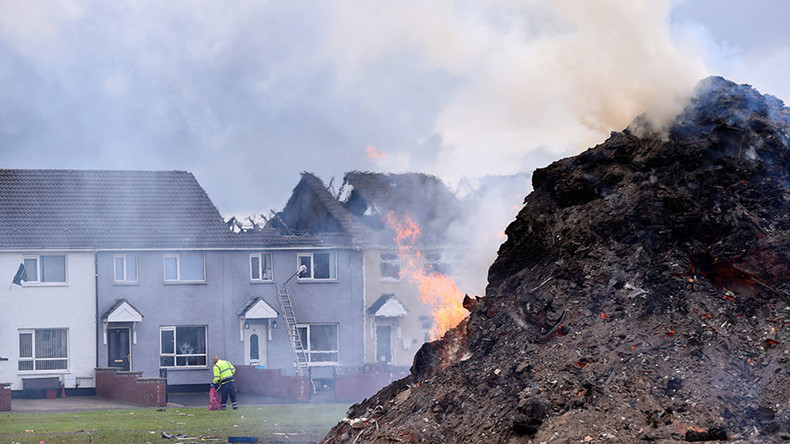 Massive bonfires were set alight across Northern Ireland communities last night as thousands of people turned out for a loyalist holiday, which saw two houses in Belfast accidentally destroyed by out-of-control fires.
The 11th Night is part of the celebration of the Protestant King William III's victory over Catholic monarch James II at the Battle of the Boyne. The yearly event often involves bonfire towers being erected in neighbourhoods throughout the north of Ireland.
Revellers have taken to social media to post images and footage of the lengths to which some people have gone to create giant pyres of wood.
Some commentators have criticized the burning of the Republic of Ireland tricolor; a sectarian practice that has blighted the holiday in the past.
Meanwhile, one image shows a huge bonfire being built dangerously close to a dual-carriageway in Co Antrim.
While the Northern Ireland Fire & Rescue Service reported a reduction in fire-related emergencies, one incident saw houses severely damaged in Belfast.
According to the Belfast Telegraph, a row of terraced houses in the Shankill Road area caught fire when one planned blaze spread suddenly and completely gutted two properties.
The lighting of bonfires near to housing estates has in the past resulted in opposition by residents fearful that the flames could spread to their homes.
Belfast Mayor Brian Kingston said it's lucky nobody was killed or injured in Monday's inferno.
"I have spoken to the relatives of one of the families affected and they say they are angry and alarmed at what has happened," he said.
Firefighters have also urged people to stop burning rubber tyres that release "toxic fumes"and "cause hazardous health conditions for those attending or living close to the bonfire."