Russian 6th-gen drone fighter jets to fly in swarms, enter near space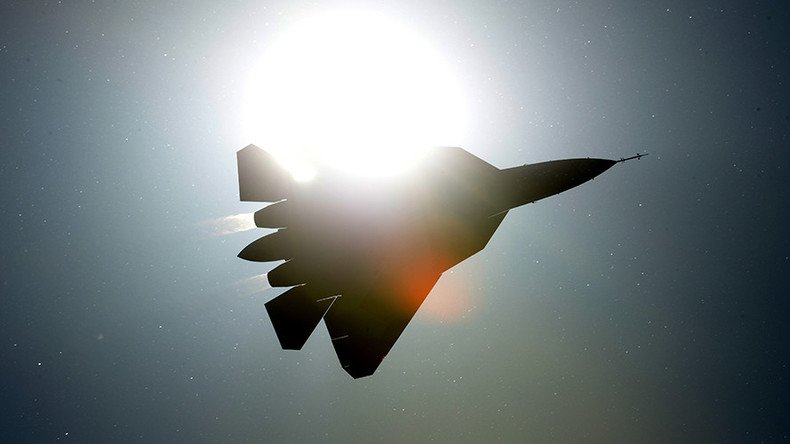 Planned to be unveiled by 2025, Russia's sixth-generation fighter jets will be rounding on the enemy in "swarms" largely consisting of unmanned aircraft flying at hypersonic speed. Developers say such groups would be able to interact and transit through space.
"The main principle of this aircraft's way of deployment is a so-called swarm, a collective solving of any task. There will be one or two piloted aircrafts in the group, the others will be unmanned vehicles," said Vladimir Mikheev, an advisor to the deputy head of the Radioelectronic Technologies Concern [KRET], Russia's largest radio electronics manufacture, in an interview to TASS on Monday.
The revolutionary drone technology developed by the company would allow a single piloted aircraft command from five up to 10 unmanned vehicles. The pilot's helm and suit will send a signal to the on-board system, which will assign a number of drones to his command. The tasks and number of vehicles depends on the pilot's status and experience.
"Depending on the status, he [the pilot] is given several subordinate drones. They, in their turn, understand – they must protect, for example, lieutenant Petrov. But if colonel Ivanov is in the cockpit, the number of subordinate drones should be more, and so forth," Mikheev said.
READ MORE: Russia's first 3D-printed surveillance drone on display (VIDEO)
Each swarm will consist of the main vehicle which maintains general command with each of the remaining aircrafts programmed to perform particular tasks, such as reconnaissance, hitting ground targets or destroying enemy aircrafts.
The unmanned aircraft is supposed to by far supersede the technical potential of 5th generation fighter jets. Apart from developing a supersonic speed of about 4-5 Mach, it will be able to enter near space and reenter the atmosphere in a designated spot, hundreds of kilometers away from the place of the original entry.
READ MORE: India upgrades its military helicopter fleet in $1.1bn deal with Russia
Such accuracy and mobility enable instant support to other "drone swarms" in case of emergency, even if the air groups are positioned thousand kilometers apart from each other.
"A pilot is performing tasks with his air group, while another [group] is a thousand of kilometers away. Let's say, one 'swarm' has suffered losses. Then the second group can share aircrafts with the first one," Mikheev said.
In general, a pilot is becoming a weak link in a new era avionics, with human's limited physical abilities preventing an aircraft from performing maneuvers at hypersonic speed, as well as operating in near space, Mikheev argues.
"A pilot will limit the aircraft's characteristics, because he cannot withstand a huge overload during maneuvers, and near space X-ray emissions are pernicious to him."
Special attention will be given to the aircrafts' combat potential. KRET, which is a unit of state-run Rostech Corporation, is also working on the multi-purpose electronic warfare system to be installed into the sixth generation jets.
"This will be so-called an integrated board, that is each block will be able to perform several functions at a time", he said, adding that among such functions will be communication, navigation, and radiolocation.
The device will also serve as a transmitter and receiver and will process the data, serving as a "powerful computer," Mikheev said.
The aircrafts will be also equipped with electromagnetic 'cannon', which can force out the enemy`s radio detector out of operation at 10km range. The super-high frequency weapon is so powerful it is unlikely to be installed on piloted aircrafts as it can damage the pilot.
READ MORE:Killer drone squad: Russia unveils anti-armor assault multicopter (PHOTOS, VIDEO)

"In particular, the electromagnetic impulse, with which the SHF's weapon will be hitting the targets, will be so powerful, that it will be extremely difficult to protect a human, a pilot from his own weaponry," Mikheev stressed.
However, the company aims to further upgrade the cannon, which if further developed, will be able to completely destroy the receive path of a rival jet.
While the initial development of the aircraft given its characteristics will require generous funding, developers say it will bring a major long-term profit.
"There is nothing more expensive than a human's life and any drone will be always cheaper than a piloted aircraft," he stressed, adding that they intend to cut expensive by manufacturing "pure drones" without costly life-supporting and piloting systems.
While planes have not yet been commissioned by the Russia's Defense Ministry, KRET hopes to finfish the research and development part of the work till 2020 and produce first 6 generation aircraft by 2025 on the ministry's order.
You can share this story on social media: