Yars & Topol-M intercontinental ballistic missiles rumble in massive Russian drill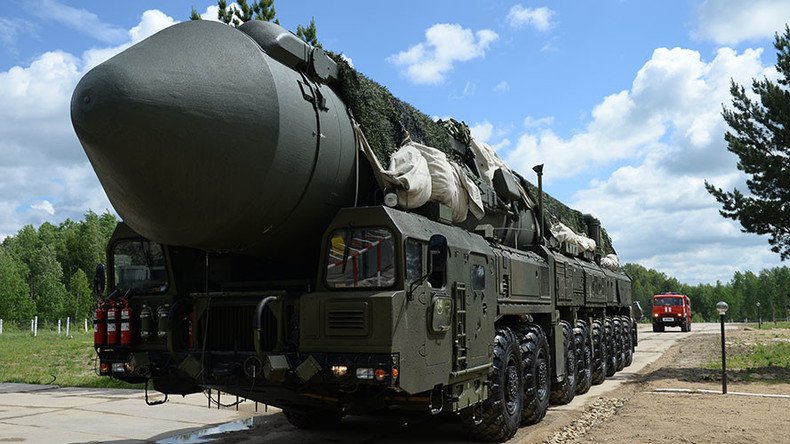 Several hundred military vehicles, including mobile intercontinental ballistic missile complexes (ICBMs), are taking part in extensive field exercises throughout Russia, training in counter-sabotage and performing simulated launch drills.
About 400 military vehicles, among them autonomous missile launchers Topol, Topol-M and Yars, accompanied by command posts, security vehicles, anti-sabotage complexes armed with drones and combat robots are out in the open for drills, the Russian Defense Ministry said in a statement.
Land-based mobile missile systems must be protected at every stage while on the patrol, which lasts up to a month. The military vehicles are rolling through the woods from the European part of Russia to the remote wilderness of the Altay Region.
The crews of mobile ICBM complexes are always training quick relocations, missile prelaunch tests and equipment readiness. This time the focus of the drills is counter-sabotage measures.
Counter-sabotage protection of ICBM convoys is maintained by special units armed with necessary technical means to detect 'enemy' forces waiting on the route of the convoy and to eliminate the threat.
At the 'heart' of the counter-sabotage effort of each convoy is Taifun-M armored reconnaissance vehicle developed specially for the Russian strategic missile forces. It operates a whole range of sensors, radars and scanners, controlling the space around the missile convoy. It can detect any suspicious human activity several kilometers away, also using a UAV, and guide a special unit accompanying the convoy on target, suppress electric circuits of roadside mines etc.
The ICBM convoys will simulate passing radiation contaminated territories, repelling attacks from the air and from the ground, and also counteracting with other troops operating within the area of their responsibility.
The summit of the drills is going to be conducting simulated launches by crews of mobile ICBM complexes taking part in the exercise, the ministry said.
In January 2016, Russia's missile corps announced plans to conduct 16 intercontinental ballistic missile launches this year, double that of 2015.
By the end of 2016, strategic missile forces plan to conduct about 120 command, tactical and special exercises to maintain maximum readiness throughout the year.
The Russian strategic missile forces, formed December 17, 1959, consist of 40 regiments and support and security units. About 500 operational crews made up of approximately 6,000 personnel remain on duty at all times.
Nuclear missile forces are armed with six principal types of missiles: three stationary silo-based versions and three mobile ones. The Russian nuclear deterrent force also includes naval and air-based components.
You can share this story on social media: