N. Korea test-fires submarine-launched ballistic missile – report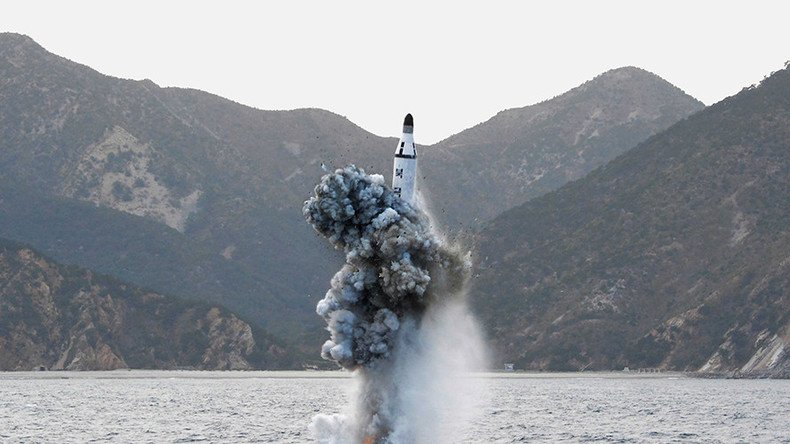 North Korea has fired a submarine-launched ballistic missile, the South Korean military has announced, according to the local Yonhap news agency. The South's Joint Chiefs of Staff says the missile test "was unsuccessful" and failed in its initial stage.
The missile was fired from waters southeast of the coastal port city of Sinpo, South Hamgyong Province, at about 11:30 am Seoul time (0230 GMT), Yonhap reported citing South's Joint Chiefs of Staff (JCS).
"The SLBM was ejected from the submarine normally, but is estimated the initial flight was unsuccessful," the JCS said in a brief press release. "Our military strongly denounces such provocative acts by North Korea."
Japan has "strongly condemned" Pyongyang's recent launch, calling it a "clear challenge to UN Security Council resolutions."
"We should strongly condemn the launch by working with the international community," Japanese Prime Minister Shinzo Abe said on Saturday, according to the Kyodo news agency.
In late April North Korea already boasted about a submarine-launched ballistic missile test, calling the launch a "great success" that provided "one more means for powerful nuclear attack".
Seoul labeled the launch as unsuccessful, saying that the sea-based missile broke into several pieces mid-flight after having flown some 30 kilometers.
The first underwater launch of the North Korean SLBM missile, KN-11, was made on November 27, 2015, and allegedly also resulted in failure.
Following the country's fourth nuclear test, which had been conducted on January 6, and the subsequent launch of a long-range rocket carrying an earth observation satellite on February 7, the North came under fire from the international community.
The UN significantly expanded the existing sanctions imposed on North Korea in March by banning all exports that might have benefited its operational capabilities.
Earlier this week, the US for the first time imposed sanctions personally targeting Kim Jong-Un.
READ MORE: US sanctions are 'declaration of war,' N. Korea says, promising backlash
North Korea labeled the newly-introduced measures as "a declaration of war", promising to provide Washington with a strong response.
READ MORE: 'Joint decision': US to deploy missile defense to S. Korea in face of growing N. Korea threat
The North Korean test comes the next day after South Korea and the US agreed that Washington would deploy a Terminal High Altitude Area Defense (THAAD) system to Seoul "as soon as possible".
You can share this story on social media: