Russia's brand new Soyuz rocket lifts off from Baikonur, taking 3-man crew to ISS (VIDEO)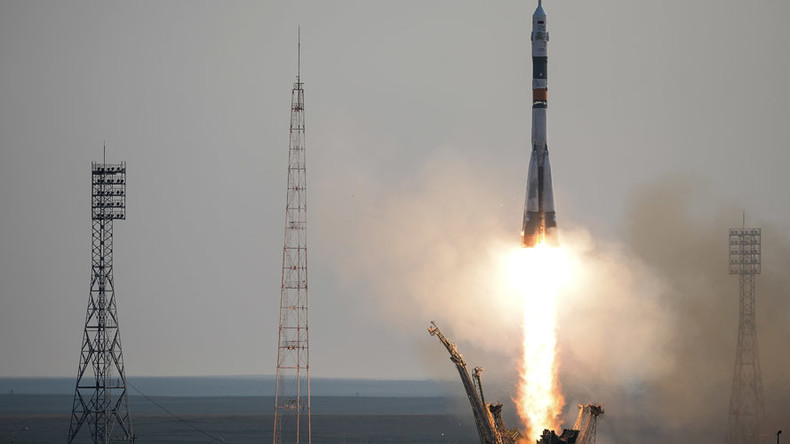 A modernized Soyuz capsule has successfully blasted off into space from the Baikonur cosmodrome with a three-man crew on board. The extended two-day flight to the ISS will give Russian scientists and engineers a chance to test out the new space technology.
In less than 10 minutes, the rocket carrier Soyuz-FG with manned spacecraft Soyuz MS-01 reached orbit. Once in outer space, the three-man team will take a two-day route to the International Space Station, instead of the six-hour journey completed by recently launched Soyuz missions.
The trio – Soyuz commander Anatoly Ivanishin, Japanese flight engineer Takuya Onishi and NASA astronaut Kate Rubins – is expected to dock with the Russian segment of the ISS on Saturday morning.
In their 48-hour, 34-orbit journey to the station, the crew is going to test all the new systems introduced in the modified Soyuz MS-01. This would be the first of least two missions in which enhanced Soyuz hardware will be tested and verified.
The launch is a debut for the newly upgraded Soyuz MS-01 capsule. It is equipped with an advanced navigation radar, computer, attitude control thrusters, and cutting-edge motion control systems.
READ MORE: Russia prepares to launch upgraded Soyuz spacecraft (VIDEO, PHOTOS)

On top of that, the new Soyuz MS-01 has more efficient solar panels, which will significantly increase its energy output. The brand-new module also has a new communication system and features a digital video transmitter. It will bring an improved visual interface between the space station and Soyuz MC-01 during its rendezvous with the ISS.
If all goes to plan, the Soyuz is expected to dock at 4:12am GMT on July 9, when Ivanishin, Rubins and Onishi will join three other space explorers currently in orbit. Expedition 48 NASA astronaut Jeffrey Williams and Russian cosmonauts Aleksey Ovchinin and Oleg Skripochka, who have been on the ISS since March.
For both Rubins and Onishi, this is the first trip to the ISS and the second for Ivanishin. The Russian cosmonaut spent 165 days in space in 2011-2012.
In four month in orbit, this crew is expected to carry out nearly 40 experiments.
You can share this story on social media: