Russia prepares to launch upgraded Soyuz spacecraft (VIDEO, PHOTOS)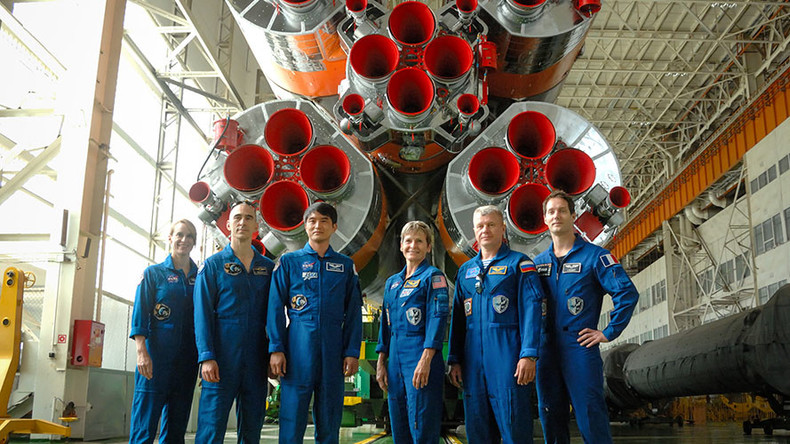 A new version of the Soyuz spacecraft is set to be launched by Russia's space agency Roscosmos this week. The Soyuz rocket will carry a crew of Russian, American and Japanese astronauts to the International Space Station, where they will spend four months.
Roscosmos announced that rocket carrier Soyuz-FG with manned spacecraft Soyuz MS had been set at Gagarin's Start (launch pad) at the Baikonur Cosmodrome in Kazakhstan on Monday.
The vehicle will carry Kate Rubins of NASA, Anatoly Ivanishin of Roscosmos, and Takuya Onishi of the Japan Aerospace Exploration Agency (JAXA). The backup crew members include Peggy Whitson of NASA, Oleg Novitskiy of Roscosmos and Thomas Pesquet of the European Space Agency.
Rubins, Ivanishin, and Onishi will start their mission from the Baikonur Cosmodrome in the morning of July 7, Kazakh time (July 6 Eastern time).
All three will spend approximately four months on board the ISS, returning to Earth in October.
Soyuz MS is the final planned upgrade of the fourth generation Soyuz TMA-M spacecraft which has been used for ISS expeditions since 2010.
After arriving at the ISS, the team will join Expedition 48 NASA astronaut Jeffrey Williams and Russian cosmonauts Aleksey Ovchinin and Oleg Skripochka. The trio left for the ISS on March 18.