Sun rises for mad Russian rooftoppers at peak of 640-foot TV tower (VIDEO)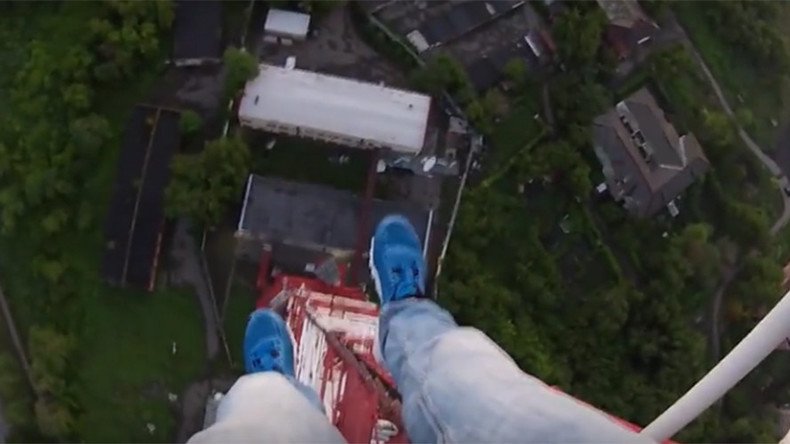 New followers of an increasingly popular thrill-seeking (but still dangerous) trend have captured a dizzying video of their climb up a 196-meter (643-foot) tall TV tower in the Siberian city of Omsk.
The vertigo-inducing footage which was captured by two 18-year-old adrenalin junkies is sure to send chills down your spine if you are just not that into recklessly putting your life in danger.
The fearless Russians take their viewers all the way up to the highest platform which they romantically termed "heaven's door." Truth be told, the TV tower actually offered absolutely stunning and heaven-like views in the small hours.
Thick and smooth clouds reminiscent of cotton candy, slightly touched with the sun's early gold and pale pink tones, floated at arm's length, and almost justified the unjustifiable risk.
It must have been a truly jaw-dropping experience, at least for one of the two friends, Max Miller, who literally failed to keep his mouth closed throughout the whole video.
Opinions over the death-defying tricks, which were undertaken with no safety harness, have naturally been divided. Some of the commenters were filled with awe towards the boys, praising their skills and nerves of steel. Others, however, were left concerned over the tower's radiation which the boys might have been exposed to while on top.
READ MORE: 'I've been locked up 6 times': Russian rooftopper stops at nothing to take stunning pics

The footage posted on YouTube on July 3 has garnered over 40,000 views so far.
Rooftopping involves climbing urban structures and performing stunts, usually with no safety gear, has gained popularity in recent years.
Adventure lovers all over the world avoid security and CCTV cameras in audacious effort to reach stomach-churning heights, enjoy breath-taking views and (trite but true) to take selfies and collect likes and followers on social networks, sometimes at the expense of their lives.
You can share this story on social media: