Jamaican cannabis kiosks at airports could give tourists legal highs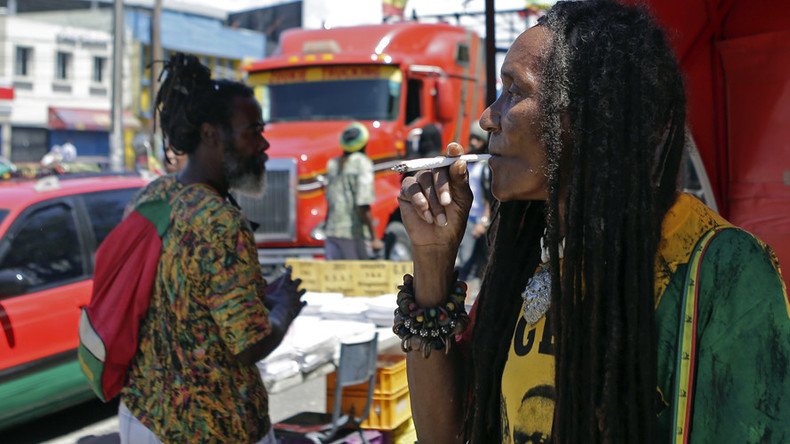 Jamaica is contemplating giving tourists arriving in the country the chance to get high as soon as they clear customs. Talks are underway on installing cannabis kiosks at airports and seaports, which Jamaica believes could boost government revenues.
"The thought is that if you are coming out of the airport, there is a kiosk that you can go to. So basically whoever is coming out of immigration can go to that desk and register and get that clearance," Cannabis Licensing Authority (CLA) Chairman Hyacinth Lightbourne told the Jamaican publication The Gleaner.
The CLA, which is behind the idea, is already planning to install kiosks where tourists will be able to purchase small amounts of pot. The initiative will also benefit those who want to use marijuana for medical reasons.
The kiosks will also have trained medical personnel on site who will be responsible for issuing permits to visitors to Jamaica, which will allow them to buy cannabis.
"It would primarily be for people who have a prescription and, in effect, you're doing it for medicinal purposes with a permit from the Ministry of Health," Lightbourne mentioned.
"If they don't have a prescription, then they can do what we call 'self-declare,' and this will allow them to have the two ounces while they are here," the CLA chairman added.
The CLA believe that making the drug more accessible could prove profitable for the island nation as long as it is properly regulated. Members of the CLA cite the success that certain areas of North America have had in profiting from legalizing cannabis as proof that their idea may prove to be a real cash cow.
"In Colorado last year, even though it is recreational and medicinal, they sold about US$1 billion worth of marijuana and collected $135 million in taxes for the state alone with a population of five million plus," said CLA member Delano Seiveright.
Marijuana, or "ganja" as it is locally known, has long been associated with the Caribbean island. Bob Marley and the Rastafarian community did much to promote the use of the drug, but it was always illegal in Jamaica until a ban on using small amounts of cannabis was overturned in 2015.
"Ganja must be registered worldwide under the Indigenous Cultural Act... Jamaica would earn from it," Member of Parliament Mike Henry, a longtime advocate for the decriminalization of cannabis, told the Jamaica Observer. "Whether we like to hear it or not, Rasta, reggae and Jamaica are synonymous."
The new rules allow people to carry up to two ounces of marijuana without fear of prosecution, while the cultivation of up to five plants is also permitted.
You can share this story on social media: