Denmark seizes cash from asylum seekers for first time under new law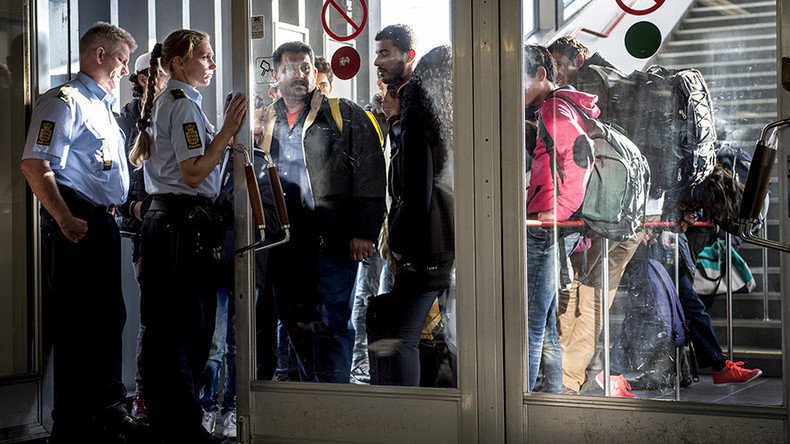 A controversial law allowing the confiscation of cash and valuables from refugees was implemented in Denmark for the first time as police seized tens of thousands of kroner from five asylum seekers who had entered the country on forged passports.
"The police in Copenhagen have seized around 79,600 kroner (US$11,900) from five foreigners who were trying to enter the country with fake identity papers," the national police said in a statement, as quoted by AFP.
Two men and three women aged between 26 and 35 were detained late on Tuesday in Copenhagen airport for using fake documents. According to police, all of them were Iranian nationals. They were arrested, charged with forgery, and searched.
The five immediately applied for asylum, and the Danish Immigration Service has begun to process their bids. The Iranians were carrying cash in dollars and euros worth about 129,600 kroner ($19,340), national police spokesman Per Fiig said, as reported by AP.
Danish Immigration and Integration Minister Inger Stojberg supported the move and said it actually justified the adoption of the controversial law.
"In my opinion, it is quite reasonable that you have to pay if you can handle yourself when you come here [to Denmark] as an asylum seeker. It [the recent confiscation] shows that there is a good reason we introduced this law in the first place," she told Danish media.
"It is clear that there are very few who travel to Denmark with a greater amount of cash," she added.
The minister also stressed that it is "fundamentally important" that the law equates the refugees with Danes, explaining that Danish citizens do not receive social benefits if they have 10,000 kroner or more, or have things of greater value, such as a car.
The controversial law, which was approved by the Danish parliament in late January and came into force in February, allows police to confiscate cash and valuables from asylum seekers that exceed 10,000 kroner ($1,491) per person to help cover their housing and food costs.
At the same time, multiple possessions that have a combined value of over 10,000 kroner as well as objects of sentimental value such as wedding and engagement rings or medals and religious objects cannot be seized.
Refugee families consisting of two adults and three children can keep cash amounting to 50,000 kroner ($7,455) per person, Danish media report.
The law aims to make Denmark a less attractive destination for refugees and also envisages a delay in refugee family reunifications, but was strongly criticized by many human rights watchdogs and international organizations, including the United Nations refugee agency, UNHCR, the Council of Europe, and Amnesty International, as well as by media.
Some even compared the new measures to the confiscation of gold and other valuables from Jews by the Nazis during the Holocaust.
Denmark adopted the law after it registered 21,000 asylum applications in 2015, making it one of the main EU destinations for refugees per capita, after Finland, Austria, Germany, and Sweden.
In the meantime, it is not the first European country to introduce such measures. Similar laws exist in Switzerland and some German states.
Refugees and migrants coming to Switzerland are required to give up financial assets worth more than 1,000 Swiss francs (US$985) in order to be accommodated in refugee shelters. It was reported that Swiss authorities confiscated the sum from 112 refugees out of 45,000 last year.
In the German state of Bavaria, cash and valuables over €750 (US$810) can be seized from refugees by law. The government of neighboring Baden-Württemberg has implemented a stricter process, with police confiscating cash and valuables above €350.
You can share this story on social media: