HRW, Amnesty call on UN to suspend Saudi Arabia from Human Rights Council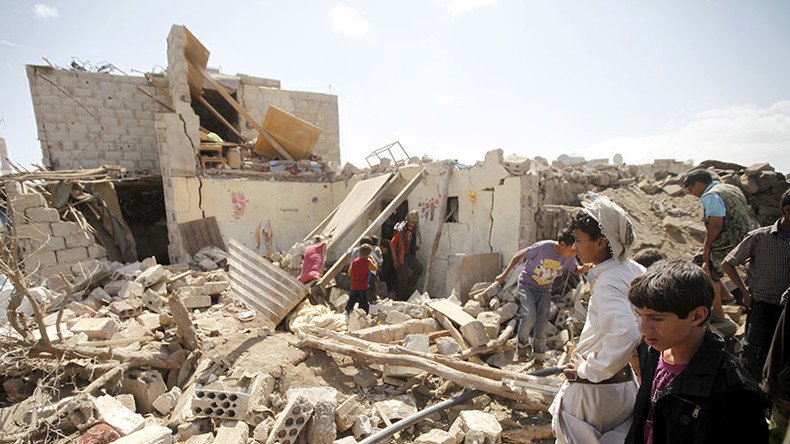 Amnesty International and Human Rights Watch have called on the United Nations General Assembly to "immediately suspend" Saudi Arabia from the UN Human Rights Council because of numerous serious human rights violations.
"Saudi Arabia has committed gross and systematic violations of human rights during its time as a Council member, and it has used its position on the Council to shield itself from accountability for its violations in Yemen," the two human rights watchdogs wrote in a joint letter to the UN on Wednesday.
They were referring to the actions of the Saudi-led coalition in the Yemeni conflict that resulted in numerous casualties among civilians.
The two organizations said they documented "69 unlawful airstrikes by the coalition, some of which may amount to war crimes," that took lives of at least 913 civilians and hit homes, markets, hospitals, schools, civilian businesses, and mosques.
The human rights NGOs also stressed that the Saudi-led coalition used internationally banned cluster munitions in 19 strikes, some of which also targeted civilian areas.
The organizations urged the UN General Assembly to suspend Saudi Arabia from the Human Rights Council until it ends its "unlawful attacks" and conducts credible investigation into all cases of alleged human rights violations or agrees to cooperate with an independent and impartial international inquiry.
"Saudi Arabia has amassed an appalling record of violations in Yemen while a Human Rights Council member, and has damaged the body's credibility by its bullying tactics to avoid accountability," Philippe Bolopion, deputy director for global advocacy at Human Rights Watch, said.
His words were echoed by Richard Bennett, Head of Amnesty International's UN Office, who said that "the credibility of the UN Human Rights Council is at stake, as "to allow [Saudi Arabia] to remain an active member of the Council, where it has used this position to shield itself from accountability for possible war crimes, smacks of deep hypocrisy."
"It would bring the world's top human rights body into disrepute," he added.
Bennett also accused Saudis of using their membership of the Council "to derail a resolution to establish an international investigation, by garnering support for their rival, toothless resolution backing a national Yemeni inquiry," which failed to investigate allegations of the coalition's alleged war crimes.
The organizations also blasted other countries that continue to sell weapons to Saudi Arabia despite its poor human rights record.
"What's particularly shocking is the deafening silence of the international community which has time and again ceded to pressure from Saudi Arabia and put business, arms and trade deals before human rights despite the Kingdom's record of committing gross and systematic violations with complete impunity," said Richard Bennett.
Earlier in 2016, Human Rights Watch and Amnesty International already called on the United States, United Kingdom, and France to suspend all weapons sales to Saudi Arabia until it stops its unlawful airstrikes in Yemen.
The two NGOs also harshly criticized the Saudi Arabia's internal policy, involving "crackdown on all forms of dissent" as well as "use of grossly unfair trials at a special counter-terror court and long prison terms for peaceful dissidents and human rights defenders."
"Saudi Arabia must release all prisoners of conscience immediately and unconditionally, and end its shameful reliance on the death penalty," Bennett said.
The Saudi-led coalition launched its aerial campaign in Yemen in March, 2015, after the "Ansar Allah" Houthi movement captured huge territories in Yemen including the capital of Sana'a and the country's second largest city, Aden.
The conflict has left nearly 4,300 dead since March, half of them civilians, according to UN figures. Since that time, the coalition has been repeatedly accused of numerous and grave human rights violations. The most high profile incidents involving Saudi coalition airstrikes include bombing a wedding party in September 2015 that claimed lives of 135 civilians; hitting a Yemeni hospital run by Medecins Sans Frontieres (Doctors Without Borders) a month later and bombing a market in north-western Yemen in March 2016, where more than a hundred people died.
At the press briefing on Wednesday, State Department spokesman Mark Toner tried to deflect the questions about Saudi Arabia.
"Because we only have observer status on the Human Rights Council, and we don't have a vote, I'll refer you to the UN for more details," Toner told reporters. His comments were met by protests that the US was a major financial backer of the HRC, that Washington supervised the election of the members, and that Saudi Arabia was a major US ally and partner.
"We've been very clear about our involvement in Yemen – our support for the GCC, led by the Saudis, in combating the threat that it faced on its borders from the Houthis," Toner said. "With respect to this movement with regard to their position on the Human Rights Council, we're not going to comment on it. Just not."
On June 3, the UN Secretary-General Ban Ki-moon slammed the Saudi-led coalition for "killing and maiming" children in Yemen, and added it to an annual blacklist of countries and armed groups that have violated children's rights in conflict.
According to the report presented by Ban Ki-moon, the coalition was responsible for 60 percent of child deaths and injuries in Yemen last year, killing 510 people and wounding 667 others. The coalition was also behind half of the attacks carried out on schools and hospitals in Yemen.
In March, the UN high commissioner for human rights, Zeid Ra'ad Al Hussein, said that the coalition was responsible for twice as many civilian casualties as all other forces put together.
Saudi Arabia repeatedly dismissed all accusations and even forced the UN to remove it from the blacklist of child-killers in Yemen just days after it was added to this list. Later, Ban Ki-moon admitted that his decision to remove the Saudi-led coalition in Yemen from the UN blacklist came after threats from a number of countries.
It came after a diplomatic source told Reuters on condition of anonymity that the UN was faced with "bullying, threats [and] pressure" from Riyadh, adding that it was "real blackmail."
This incident also caused the outrage of the Human Rights Watch and Amnesty International. "Allowing Saudi Arabia to obstruct independent scrutiny and avoid accountability threatens the credibility of both the Human Rights Council and the General Assembly," the two organizations wrote in the joint letter to the UN.
Saudi Arabia joined the Human Rights Council in January 2014 and is now in its final year of a three-year term on the 47-member Human Rights Council.
A two-third majority vote by the UN General Assembly can suspend a country from the Human Rights Council for continuously committing grave and systematic violations of human rights during its membership, according to the General Assembly Resolution 60/251, which created the Human Rights Council.
You can share this story on social media: