John Kerry unexpectedly admits Iran is 'helpful' to US in fighting ISIS in Iraq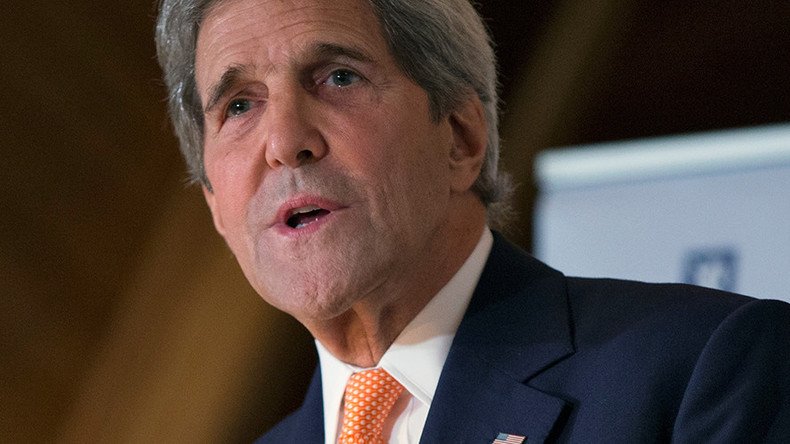 Despite ongoing strained US-Iranian relations, US Secretary of State John Kerry has come out with some unlikely comments praising the Islamic Republic for being "helpful" in the common mission to stamp out the Islamic State terror group in Iraq.
When asked whether Iran's influence in Iraq was "more helpful or more harmful" at the Aspen Ideas Festival in Colorado, Kerry gave an unexpected response.
"Look, we have challenges with Iran as everybody knows and we are working on those challenges," Kerry told reporters. "But I can tell you that Iran in Iraq has been in certain ways helpful, and they clearly are focused on ISIL-Daesh [IS, formerly ISIS/ISIL], and so we have a common interest, actually," he added.
This was accompanied by an assessment from Brent McGurk, the US envoy for the war against IS, who conceded that Iran's role in Iraq was positive, despite the view that the Shiite forces backed by Iran and operating in Iraq are not all that loyal to the common cause and tend to go rogue. McGurk claimed that "about 15-20%" of those forces "are a fundamental problem."
Islamic State's power has been on the wane in Iraq, particularly in the volatile Anbar province, where a coordinated effort by Iraqi ground forces and American air power has weakened it. However, according to the NY Times, the US and Iraq are also spreading unconfirmed reports that Iranian-backed militias are carrying out kidnappings and murders in Sunni-dominated Fallujah.
The Americans believe that cooperation between Tehran and Washington can only go as far as fighting IS, each for their own ends. The US has also accused Iran of only helping the Americans in Iraq in order to quietly secure a route to its allies in Syria.
READ MORE: US terror report on Iran a stupendous denial of Washington-Saudi terror reality
The Obama Administration is currently split on some key issues regarding the Islamic Republic, and the US Treasury and State departments have been at odds in determining just how much financial support Iran should be entitled to following the recent landmark nuclear deal. The Treasury oversees sanctions against Tehran, but Kerry himself appears to be a proponent of reintroducing Iran to the US financial system. Just in May, Kerry said that European businesses should not use US sanctions on Iran as an excuse for not doing business with the Islamic Republic, apparently leaving some Treasury officials "seething with anger," according to an unnamed Congressional source speaking to the Washington Free Beacon.
Kerry's praise for Iran comes shortly after the US Navy sacked a second commanding officer due to an international incident in January that saw the Navy wander into Iranian waters and its sailors captured and detained.
You can share this story on social media: