'I hope Istanbul attack becomes a turning point for united fight against terrorism' – Erdogan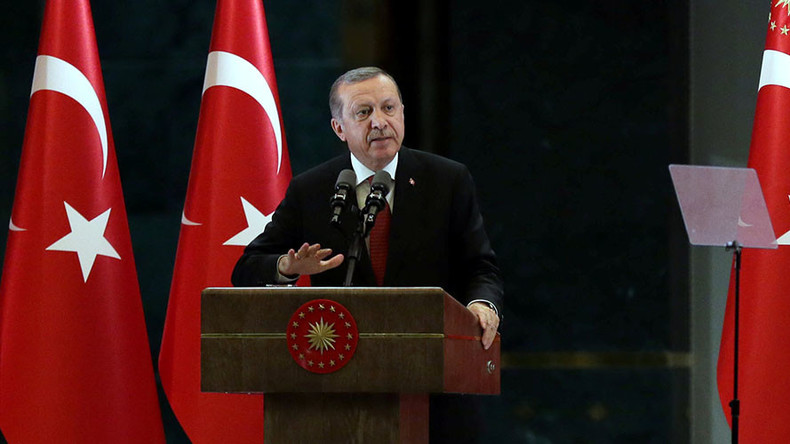 Turkish President Tayyip Erdogan has condemned the violence and expressed hope that the bombing becomes "a turning point" for the whole world to unite against terrorism. Erdogan's PM said initial findings indicate that ISIS bears responsibility.
"I hope that the Ataturk Airport attack, especially in Western countries [and] all over the world, will be a milestone for the joint fight against terrorist organizations, a turning point," he said.
Erdogan said the attacks, "which took place during the holy month of Ramadan, show that terrorism strikes with no regard for faith and values."
He also expressed his condolences to the "citizens who lost their lives" and the entire nation.
"It is clear that this attack is not aimed at achieving any result but only to create propaganda material against our country using simply the blood and pain of innocent people," he added.
The Turkish president also said that he expects the world, and especially Western countries, to demonstrate "a decisive stance" in the battle with terrorist organizations.
Turkey, in the meantime, will "continue the fight, despite the huge cost we are paying."
"Today's bombs in Istanbul [have demonstrated] the treacherous nature of terrorism," Erdogan said. "It could happen in any city in the world, in any airport."
"Once again, God have mercy on our citizens who lost their lives in the attack, I wish the injured a speedy recovery," the president said.
"This was a horrific act of terror targeting innocent civilians," Turkish Prime Minister Binali Yildirim said. "It showed once again that terrorism is a global threat and defeating it requires global cooperation. All early indications suggest that the IS was behind the atrocity, but the investigation is ongoing."
He added that Turkey "has power and determination to overcome such attacks."
All three suicide bombers opened fire before blowing themselves up, according to initial findings, the premier said.
READ MORE: 'I saw a terrorist shooting people': Turkish airport eyewitnesses describe harrowing scenes to RT

41 people have been killed, and 239 others wounded, when three suicide bombers attacked the Ataturk International Airport in Istanbul, Yildirim said.
Foreigners are very likely to be among the 41 people killed, he added.
You can share this story on social media: