Terror timeline: Turkey's year of spiraling violence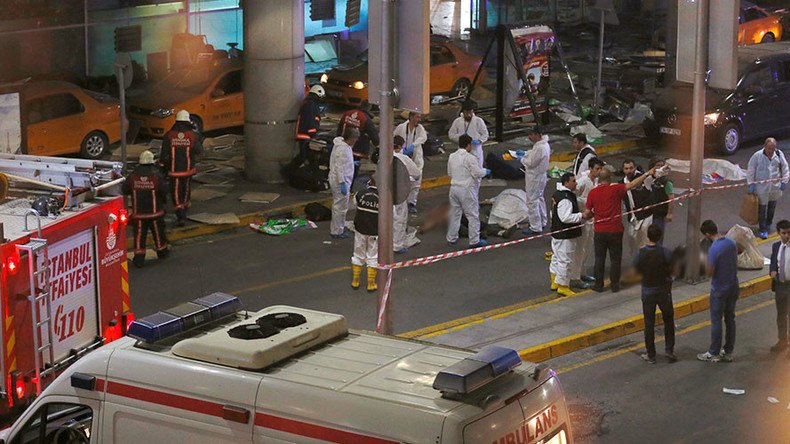 Turkey has been rocked by a series of terrorist attacks throughout the last 12 months before a series of deadly explosions took place in Istanbul's Ataturk Airport on Tuesday, with 41 people killed and 239 injured.
Turkey has endured a rise in deadly attacks in recent months, with militants targeting tourist spots and police, making the security situation increasingly volatile in the country.
RT takes a look back at terror attacks in Turkey over the past year.
Peaceful rally in Diyarbakir
Two explosions at a Kurdish opposition rally in the city of Diyarbakir killed two people and injured over 100 others, at the beginning of June 2015.
Thousands of people had gathered at a rally for the pro-Kurdish People's Democratic Party (HDP) when the attack happened.
READ MORE: Powerful explosions kill dozens at peace rally in Ankara
Tourist target in Istanbul
A suicide bomber killed 10 foreign nationals and injured 15 others when a suicide bomber hit central Istanbul in January this year.
A group of German tourists had gathered at Sultanahmet Square at the time of the explosion.
Car bomb targeting military convoy
A car bomb in February this year killed at least 28 people and injured 60 others in the Turkish capital. Mehmet Kilicer, governor of Ankara said the attack had targeted a convoy of military vehicles during rush-hour traffic.
A car bomb exploded as the military vehicle passed through the administrative center of the Turkish state, near parliament and government buildings.
Blast in Ankara city center
In March, 37 people were killed by Kurdish militant group 'TAK,' in apparent revenge for Turkish military operations in the predominantly Kurdish south-east.
At least 125 people were also injured in the blast, which was caused by a suicide car bombing in the center of the city.
Shopping district bombing in Istanbul
Only a few days later, an attack on a popular shopping district in Istanbul killed 5 people including the attacker and injured at least 36 others on March 19.
Images from Taksim district showed maimed bodies lying in the street while emergency services worked to save those injured.

Turkish officials said the attacker could have been from the PKK or the Islamic State (formerly ISIS/ISIL).
READ MORE: Suicide bombing in central Istanbul main shopping street kills 5, injures 36
Female suicide bomber in Busra
One person was killed and 13 others injured in late April when a female suicide bomber blow herself up in the northwest city of Bursa, while a funeral was due to take place in the downtown Grand Mosque.
The terrifying moment was captured on video and showed the extensive damage to nearby buildings. The blast was the fifth suicide bombing to take place in Turkey in 2016.
READ MORE: Moment of suicide blast that killed 1, injured 13 in Turkey's Bursa caught on video
Police targeted in Gaziantep
On May 1, a car bombing hit the Turkish city of Gaziantep early morning in front of the police headquarters. Two police officers were killed and 22 people were injured by the attack.
While no one took responsibility for the bombing, blame was reportedly shifted onto the Islamic State.
Car bomb in central Istanbul
Another car bomb killed 11 people including 7 police officers at a busy intersection in the Vezneciler district of central Istanbul on June 7.
The vehicle was parked with explosives inside and was detonated by remote control, according to Istanbul's governor, Vasip Sahin. Nearby cars and buildings over 50 meters away were damaged by the blast.
You can share this story on social media: