Mural of drowned Syrian toddler vandalized in Germany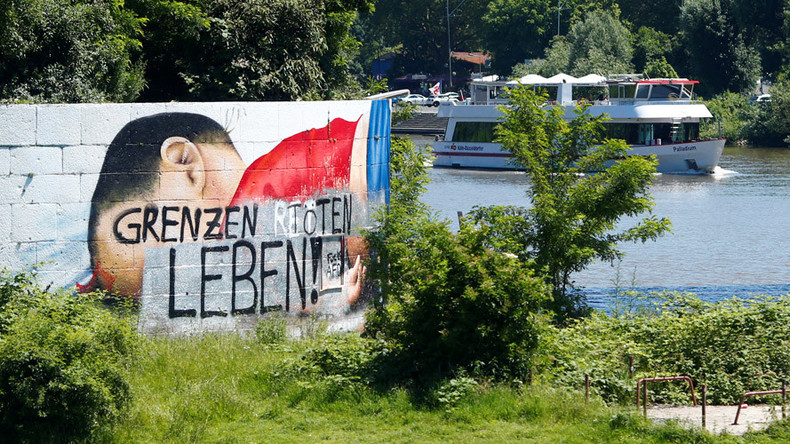 A mural symbolizing the death of a three-year-old refugee who drowned fleeing Syria has been vandalized in Frankfurt, German police have confirmed. The picture depicting Alan Kurdi was daubed with the words "Borders save lives."
The colorful painting, which measured 20 meters by six meters, was created by the artists Oguz Sen and Justus Becker with the permission of the local authorities. They decided to paint an image of the toddler, who drowned while trying to cross the Mediterranean Sea to Europe.
His body washed up on the Turkish coast and his tragic story was reported across the globe. The mural was painted next to the city's Main River in March, but was almost immediately splashed with white paint as soon as it was finished.
However, the vandals have gone a step further now, with the words "Borders save lives," written in silver paint, in an apparent message against Germany's open borders policy, which saw 1.1 million refugees arrive in the country in 2015 and hundreds of thousands more expected this year.
"We don't know who is behind it," a police spokesman told AFP, adding that a criminal investigation had been launched.
Becker, who has helped refugees arriving in Germany, said he drew the mural to try and get the German public to change their "selfish" attitudes towards immigration.
"We are very sad about the children dying and we are angry," he said in May. "It is a memorial piece representing all children who died fleeing from war to Europe," Reuters reported.
Supporters of Becker and Sen's artwork have started a fundraising campaign to try and allow the artists to restore the image.
However, not all artwork supporting the cause of refugees has been universally welcomed after residents in Berlin launched a petition to get a painting in the Tegel district removed. The artwork in question shows a bloodied refugee girl and a naked, handcuffed body pierced by arrows.
"It's very, very frightening," the mother of a five-year-old boy who attends a nearby kindergarten told the newspaper.
"The worst is the impaled man…there is so much suffering in the world, but you don't have to also present it to us in such a big way," she added.
Some believe the painting will evoke painful memories for those fleeing war and persecution.
"There will be people living there who fled from wars and lived through horrible things. For this reason I also find the image inappropriate," a 26-year-old law student said.
You can share this story on social media: