Berlin residents angered by mural showing bloody refugee, arrow-pierced body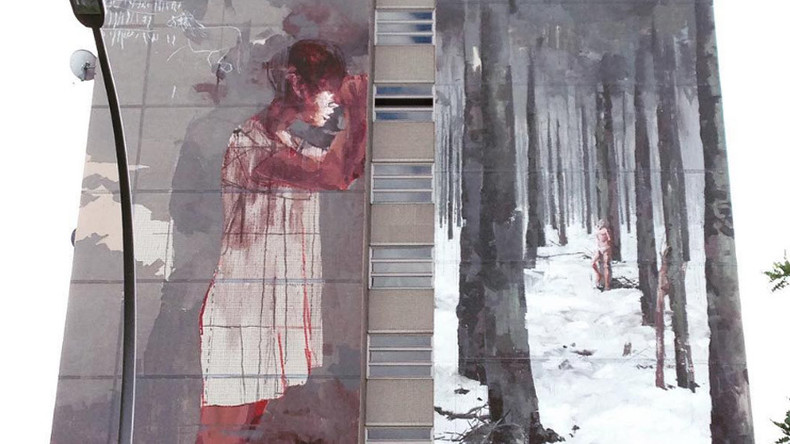 Berlin is a city of murals, but one particular painting has struck a nerve with local residents who have launched a petition to have it removed. The artwork shows a bloody refugee and a naked, handcuffed body pierced by arrows.
Painted on an apartment building in the German capital's Tegal neighborhood, the mural shows a girl in a white nightgown which has been covered in blood. She also appears to be standing on a floor covered in blood.
Across from her is a forest scene, where a naked person has been handcuffed against a tree. The body has been pierced by arrows.
The mural, painted by Spanish artist Borondo, is in reference to the refugee crisis, according to a spokesperson from Gewobag housing association, which commissioned the art.
Read more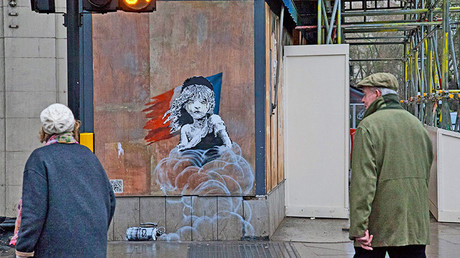 Although the painting may appear brutal at first sight, the spokesperson stressed that it depicts optimism, as well as pain.
"The child sees a person who despite being hit with arrows can stand upright and is strong," the spokesperson told Berlin's Tagesspiegel on Wednesday.
The mural, which comes amid plans to build a refugee home in the area, is part of a series called Artpark Tegel. The series so far consists of five paintings by the street art network Urban Nation.
But although the creative city of Berlin is no stranger to art being combined with political statements, the 42-meter (137-foot) mural is making waves in the community. Some residents have launched a petition to have the mural removed, the Local reported.
"It's very, very frightening," the mother of a five-year-old boy who attends a nearby kindergarten told the newspaper.
"The worst is the impaled man…there is so much suffering in the world, but you don't have to also present it to us in such a big way," she added.
Some believe the painting will evoke painful memories for those fleeing war and persecution.
"There will be people living there who fled from wars and lived through horrible things. For this reason I also find the image inappropriate," a 26-year-old law student said.
Others have expressed concern because several people have killed themselves by jumping off the building next door to the painting, according to Felix Schönebeck, a spokesperson for the neighborhood initiative I Love Tegel.
The painting comes amid plans to open a refugee home in the area, as Germany and the rest of Europe continue to face the worst refugee crisis since World War II. Germany accepted more than 1 million asylum seekers last year as part of Chancellor Angela Merkel's open-door policy for those fleeing dangerous wars and persecution. Most of the refugees hailed from Syria, where a civil war has killed 250,000 people and displaced 12 million others since 2011, according to UN figures.