State of democracy 'under threat' in Turkey – PACE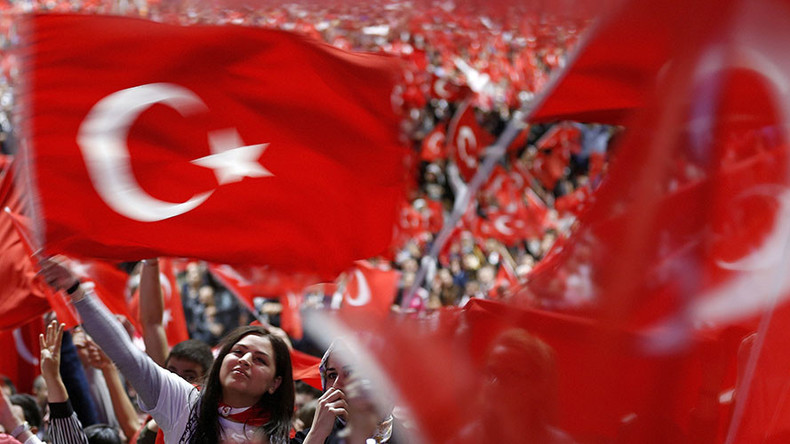 A clampdown on media freedom, erosion of the rule of law and human rights violations in an anti-terror operation in Kurdish areas threaten the functioning of democratic institutions in Turkey, the Parliamentary Assembly of the Council of Europe warns.
The European MPs voiced their concerns during a debate on the state of democracy in Turkey on Wednesday.
In a resolution, based on the post-monitoring report by co-rapporteurs Ingebjørg Godskesen and Nataša Vuckovic, PACE stated that it "regrets that peace talks to address the Kurdish issue collapsed in summer 2015, putting at stake the process of enlarging the cultural and linguistic rights of the Kurdish community."
The MPs acknowledged Turkey's right to fight terrorism, but stressed that "security operations must be carried out in line with international law."
"The right balance between security and individual liberties must be found in Turkey," they said, according to the PACE website.
The assembly said it's concerned by the recent decision to strip a large number of Turkish parliament members, apparently targeting pro-Kurdish MPs, suggesting that the move "could damage parliamentary life and undermine the healthy political environment that Turkey needs to face today's challenges."
A clampdown on the media by the government of President Recep Tayyip Erdogan was also addressed by PACE.
"Changes in ownership of media companies serving business interests over the past years were motivated by, and have resulted in, significant political influence on the media," the resolution read, adding that "domestic and foreign investigative journalism should be conducted on all topics, and in all regions."
READ MORE: Turkish police use tear gas, rubber bullets to disperse LGBT rally in Istanbul (PHOTOS, VIDEO)
The blockage of over 100,000 websites and Twitter takedown requests by the government were labeled by PACE as a "highly disproportionate measure, which impedes the public's right to have access to, and to be provided with, information on the internet, and negatively impacts media pluralism and free expression."
The European MPs also urged Ankara to amend it legislation to fit the European Convention on Human Rights and drop such penal code articles as "Insulting the President of Republic" and "Degrading the Turkish Nation."
READ MORE: Erdogan slams US support of Syrian Kurds, lectures Washington on 'good & bad terrorists'
The Turkish authorities were also advised to refrain from unduly interfering in the judiciary and challenging the rule of law.
PACE promised to closely monitor the situation in Turkey, which it still called a "strategic partner for Europe."