Erdogan slams US support of Syrian Kurds, lectures Washington on 'good & bad terrorists'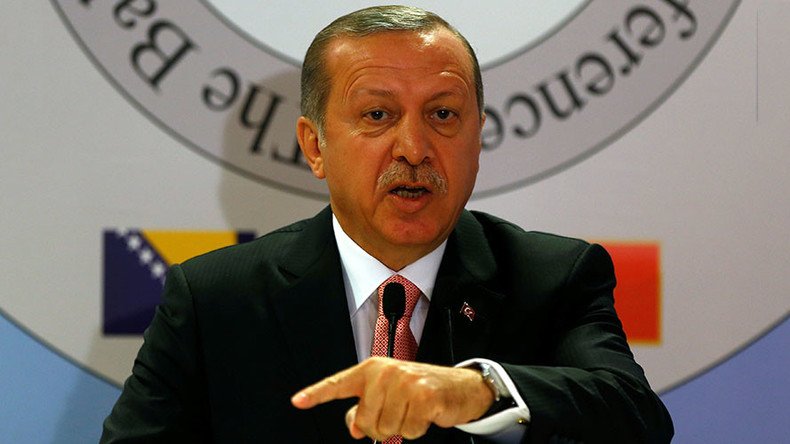 Turkey has criticized Washington over its active support of the Kurdish fighting force in Syria, branding the People's Protection Units (YPG) as terrorists despite their latest successful advances on ISIS jihadists' positions.
The US-backed Kurdish People's Protection Units (YPG) and the Syrian Democratic Forces (SDF), launched an offensive at the end of May to capture the last segment of the Turkish-Syrian border still under Islamic State (IS, formerly ISIS/ISIL) control and surrounded the city of Manbij on Friday. The US-supported coalition forces also continue to recapture settlements in the vicinity of IS stronghold of Raqqa on the north bank of the Euphrates River.
Ankara has long been protesting against American support of the Kurdish YPG forces fighting alongside the SDF. Turkey considers the Syrian Kurdish units to be terrorists with ties to the banned Kurdistan Workers Party (PKK), which is fighting its own battle against Ankara in Turkey.
The ongoing anti-ISIS campaign conducted by both Russian and US-led forces also interferes with Turkish interests in the region. Turkish authorities have repeatedly threatened a military intervention if the YPG go west of the Euphrates.
Ankara is worried that if the political Democratic Union Party (PYD) affiliated with the YPG establishes itself west of the river, Kurds will be able to unite the cantons of Kobane, Jazira and Afrin and create a uniform Kurdish entity in northern Syria.
On Saturday, Turkish President Recep Tayyip Erdogan once again advised Washington to choose its allies. Erdogan stressed that the YPG crossing west of the Euphrates to recapture Manbij, is crossing a red line and that Kurds are only pursuing their fight against ISIS to secure more territory, Daily Sabah reports.
"Right now, there is a serious project, a plan being implemented in northern Syria. And on this project and plan lay the insidious aims of those who appear as 'friends'. This is very clear, so I need to make clear statements," Erdogan said at an event in Istanbul on Saturday.
The Turkish president warned that the US must understand that Kurdish armed forces, which are the main US-allies, in the region are just as bad as the Islamic State or Al-Nusra jihadists.
"Some of our ally states respond to us by saying, 'we support the PYD/YPG because they fight against Daesh'. Well, you accept Nusra Front as a terror organization and Nusra Front also fights against Daesh. Why don't you see them as partners, too?" Erdogan wondered.
"For us, there are no good or bad terrorists. All terrorists are bad," the Turkish president added.
You can share this story on social media: