Merkel wants Germany military budget boosted to counter 'external threats'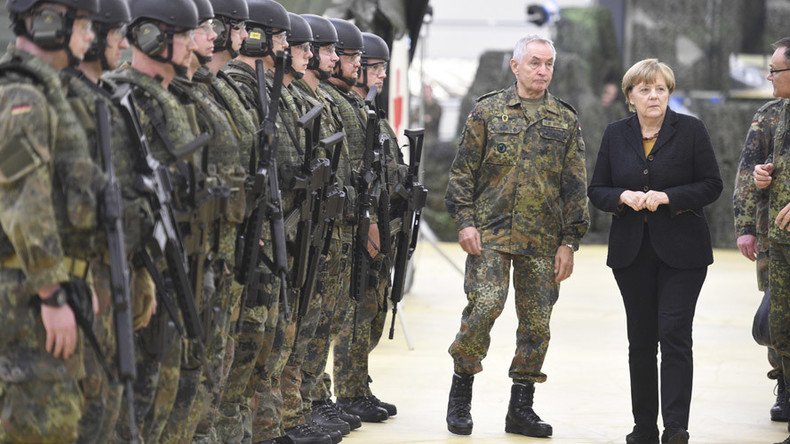 Germany should substantially increase its defense spending to cope with "external threats," Chancellor Angela Merkel has said, stressing that Berlin can't count on the US, and the EU is incapable of defending itself.
During an economics conference in Berlin on Tuesday, Merkel said the EU can't rely on the transatlantic partnership with the US to deal with external threats, Reuters reports.
"Sure enough this means that a country like Germany, which today spends around 1.2 percent of its gross domestic product (GDP) on defense, and the United States, which spends 3.4 percent of GDP for defense will have to converge," Merkel said.
The chancellor maintained it would be no good in the long run if Germany expected others to bear the burden of defense.
Last month, German Defense Minister Ursula von der Leyen announced the country's first army expansion since the Cold War. Over the next seven years some 14,300 additional soldiers will be recruited, and around 7,000 new troops will be hired in the initial drive, with approximately 4,400 new civilian personnel working alongside them.
In 2015, EU Commission President Jean-Claude Juncker called for the creation of a united European army, which he said would be aimed at "deterring" Russia and strengthening the alliance.
"With its own army, Europe could react more credibly to the threat to peace in a member state or in a neighboring state," he said, adding that "a common European army would convey a clear message to Russia that we are serious about defending our European values."
Although Juncker's proposal has long been on the agenda, there hasn't been much progress with regards to its implementation. The bloc has struggled to agree on a common defense policy and has faced financing issues.
Despite the fact that the EU doesn't have a common army, its foreign policy allows the bloc to launch various operations. As part of its Common Foreign and Security Policy (CFSP) adopted in 1999, 21 civilian and 11 military missions were carried out by the EU.
In June, the German government announced it was seeking to make changes to its "White Paper", a document outlining the country's security policy and stating it would regard Russia as a threat. Placing Moscow on the list of the 10 most serious threats to Berlin, the German Defense Ministry said Russia is no longer a "partner" but has become a "challenge."
Other "threats" mentioned in the document included international terrorism, radical nationalism, the migrant crisis and an increased risk of epidemics that might occur due to the surge in Germany's population.
The upcoming NATO summit in Warsaw is also set to put the "Russian threat" high on the agenda. However, not everyone seems to support the idea.
Last week, German Foreign Minister Frank-Walter Steinmeier blasted NATO military drills in Eastern Europe simulating the repulsion of the so-called "Russian aggression" and said the confrontation with Moscow would only endanger European security. Instead of exacerbating the situation "through saber-rattling and warmongering," there ought to be more space for dialogue and cooperation with Moscow, Steinmeier said.
From partner to rival: Germany to designate Russia 'a security challenge'
In late March, Chancellor Angela Merkel's cabinet adopted a €325-billion federal budget for 2017, with €36.6 billion earmarked for defense.
Citing Russia's involvement in the Ukraine crisis, NATO members in 2014 agreed to stop making budget cuts on military and spend two percent of each nation's gross domestic product (GDP) on defense. Germany, however, said it would remain below the two-percent commitment.
You can share this story on social media: