From partner to rival: Germany to designate Russia 'a security challenge' – report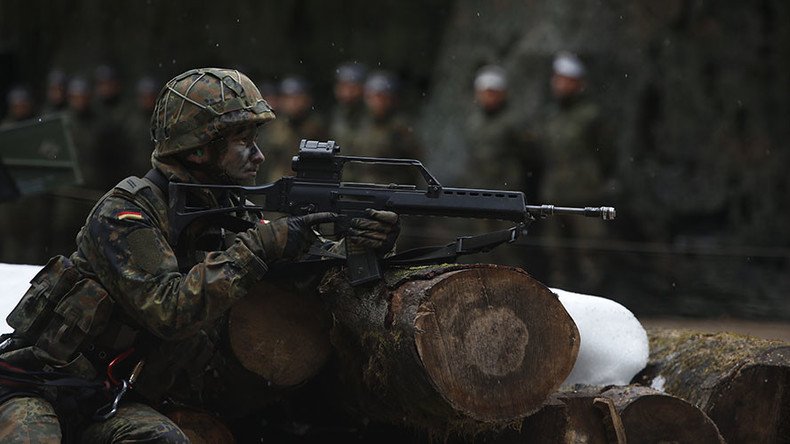 In the upcoming government security policy guidebook currently being prepared by the German Defense Ministry, Russia will be designated one of 10 major challenges on par with terrorists, migrants and global climate change, reported Die Welt.
The so-called White Paper is to be released sometime after the British referendum on EU membership, an event that that Berlin does not want to affect by releasing the 80-page document. The previous security policy overview was published in Germany in 2006 and the previous version came in 1994.
The new document is expected to downgrade Germany's attitude toward Russia from calling it a partner, as was the case a decade ago. According to Die Welt, the move may be quite dramatic. White Paper 2016 will label Russia one of 10 global threats on par with international terrorism, migrant crises, right-wing extremism, cyberattacks and global climate change, government sources told the newspaper.
Moscow is now Germany's rival, which uses "hybrid instruments to blur the boundaries between war and peace" and "undermine other states," authors of the document reportedly said. Russia's influence on global public opinion through traditional outlets and social media are of particular concern for the German military, according to the report.
Earlier media leaks from the White Paper indicated that the document would provide for greater use of German troops for domestic deployments (which would require a post-war ban to be lifted) and independent missions in foreign lands. Berlin also reportedly seeks to form and lead a pan-European military force, which would sideline NATO as the security provider for the continent.
Commenting on the issue, Alexey Pushkov, chairman of the State Duma's International Affairs Committee, Tweeted that Germany's listing Russia as one of its major security threats is more a sign of Berlin's "subordination" to the US than a demonstration of "the real state of affairs."
Moscow has never abandoned cooperation and partnership with the West, including Germany, but hopes for mutual respect, said Konstantin Kosachev, chairman of the Upper House committee for foreign affairs.
"We never abandoned partnerships with European countries. It was not us who imposed sanctions; it's not Russia who withdrew from cooperation with NATO," he asserted. Russia will not cut off dialogues with Germany or any other European country, Kosachev stressed.
Russia's relations with western powers plummeted after the political crisis in Ukraine resulted in an armed coup, which brought a West-sponsored government into power in Kiev. Crimea, a predominantly Russian region of Ukraine, rejected the coup, which was heavily influenced by radical nationalist elements.
Crimea voted in a referendum to break up with Ukraine and rejoin Russia. Russian troops, which were deployed in the region under a treaty with Ukraine, were deployed to prevent any possible bloodshed. Kiev and its foreign sponsors said the move was an annexation through military force, while Moscow insists that it was a rightful exercise of national self-determination.
Russia is also being accused of backing rebel forces in Eastern Ukraine, which too opposed the new authorities in Kiev. The Ukrainian government deployed tanks, heavy artillery, warplanes and other military hardware to subjugate the rebellious regions.
After failing with the crackdown, Kiev accused Moscow of secretly sending thousands of regular troops across the border, but couldn't back the accusations by convincing evidence. Russia says its involvement in Ukraine is limited to providing humanitarian aid and that all Russian citizens, who joined the ranks of the local militias, are volunteers, not regular troops.
You can share this story on social media: