See what epic Crimean Bridge will look like in RT's breakthrough 360 video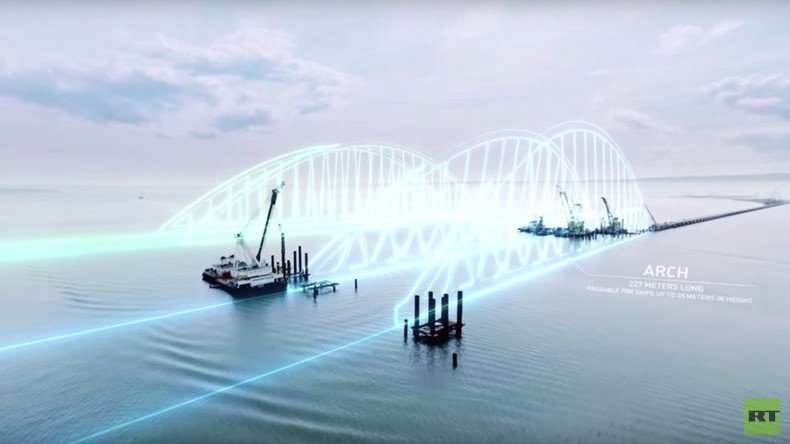 The first-ever 360 video of the 19km-long Crimean Bridge under construction shot by RT offers a unique VR tour of Russia's ambitious infrastructure project, allowing you to feel the bridge's scale and imagine how it will look like.
A stunning video shot by an RT 360-degree camera from a bird's-eye view has been presented at the St. Petersburg International Economic Forum (SPIEF). The virtual reality footage shows the gigantic size of the Crimean Bridge under construction, and allows viewers to see what the bridge will look like once completed.
360 videos are best viewed in desktop browsers or in the YouTube app.
The video offers a four-dimensional bird's-eye view of the construction works, which are under way and due to be finished by 2018.
RT's VR counter at SPIEF has been attended by several high-level guests, including Russian Deputy PM Arkady Dvorkovich, Culture Minister Vladimir Medinsky and Foreign Ministry spokeswoman Maria Zakharova, who had the chance to get the panoramic view of the bridge in the making.
READ MORE: Crimean energy bridge completed from mainland Russia
A separate presentation was made available at SPIEF by the "Crimean Bridge Project," enabling to see the construction from inside a simulated helicopter cockpit equipped with VR goggles, a monitor and full controls. Visitors could perform virtually fly-pasts over the bridge or maneuver between its steel arches.
Once finished, the 19 kilometer- (12 mile-) long Crimean Bridge will become one of Russia's largest. The ambitious multibillion-dollar project is expected to span Crimea with Krasnodar region in mainland Russia, allowing fast, reliable and cost-efficient transportation link for passengers, goods and services.
The bridge will have four-lane highway and two-lane railroad, capable of providing access for up to 40,000 and dozens of trains a day to the peninsula over the Kerch Strain. It is scheduled to be opened by late 2018 and become fully operational by 2019.
READ MORE: 360, everyone: RT brings virtual reality to St. Petersburg Intl Economic Forum
The Crimean Bridge video was one of the most popular featuring RT's immersive panoramic format at SPIEF, where the forum's guests had a chance to explore. The channel's gripping 360 video footage of a V-Day Parade on Moscow's Red Square shot from a fighter jet was also among the attendees' favorites.
You can share this story on social media: