EU-Turkey refugee deal illegal, court challenge claims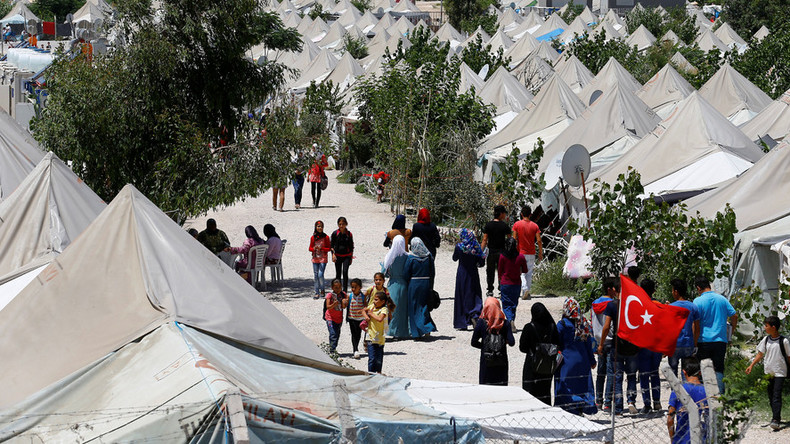 The legal justification for the EU-Turkey refugee deal has been challenged in the European Court of Justice by three asylum seekers. Their argument, that Turkey is not a safe place for refugees, is backed by human rights groups.
According to the complaint filed with the Luxembourg-based court last week, the EU is violating international law and its own statutes by sending asylum seekers back to Turkey, The Daily Telegraph reported Tuesday, citing a legal memo sent to member states by the European Council's legal service. The memo was obtained by the civil liberties website Statewatch.
The three complainants, two of whom are Pakistani and the third Afghan, are currently in refugee camps in Greece, a country from which irregular asylum seekers, who arrived in Europe from Turkey, are being sent back under the challenged deal.
They argue that the arrangement between Brussels and Ankara breaches their right to asylum and their right to be protected from being forced to go to a country where they may be treated inhumanely or even expelled onward into a war zone.
The latter is the most serious part of the complaint. Turkey was reported by rights groups to deport refugees to countries like Syria, Iraq and Afghanistan. If so, this violates the so-called principle of non-refoulement, which was introduced into international refugee law in the aftermath of World War II in response to the failure of some European nations to shelter people fleeing Nazi Germany's extermination policies.
The principle is far from being strictly enforced. One of the worst examples of how it can be trampled upon came in 1979, when Thailand's military dictator, Kriangsak Chomanan, ordered the expulsion of thousands of Cambodian refugees back in to their country, which was occupied by Vietnam at the time. The refugees were brought to the border by buses and forced at gunpoint to walk across the border into a minefield. The brutal act prompted foreign donors to pay Thailand for keeping Cambodian refugees or resettling them.
The deal between Turkey and the EU was signed in March. Brussels pledged to pay 6 billion euros, grant visa-free travel to Turkish nationals and speed up EU accession talks with Ankara. In exchange, Turkey agreed to take back all irregular refugees from Greece while allowing up to a certain number of asylum seekers to travel to the EU legally.
The EU insists that the deal respects the refugee laws and is "legal, practical and by design respects the principle of non-refoulement." But critics say that Brussels is turning a blind eye to the state of the Turkish refugee system and Ankara's sometimes abusive policies toward refugees.
Turkey hosts the largest number of foreign refugees in the world, with the number estimated at 3 million. Most of them are from neighboring Syria, which has been ravaged by civil war and international terrorism since 2011.