Merkel 'ready to give in to Turkish blackmail' on visa free-travel – leaked UK diplomatic cables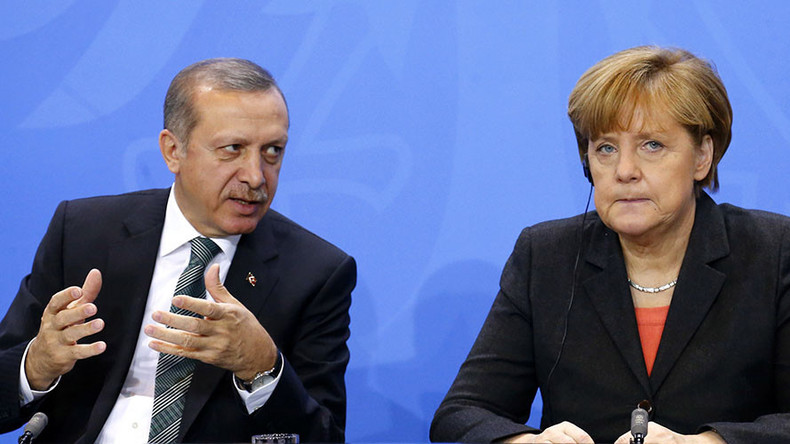 UK diplomats believe German Chancellor Angela Merkel is ready to give in to Turkish President Erdogan's "blackmail" and grant Turkish citizens visa-free access to Europe even if Ankara fails to fulfill all the EU's demands, leaked diplomatic cables say.
While EU leaders have been publicly insisting that visa-free travel to the Schengen zone is impossible until Ankara meets several conditions, including amending its anti-terror laws that are used to persecute dissidents and media, a new report suggests that the stance is changing behind the stage.
The Telegraph cited a leaked diplomatic telegram from Britain's ambassador in Berlin, Sir Sebastian Wood, as saying that German officials close to Merkel are ready to strike a "compromise formulation" with Turkey on the terrorism law.
"Despite the tough public line, there are straws in the wind to suggest that in extremis the Germans would compromise further to preserve the EU-Turkey deal," the document obtained by Vote Leave organization, which is pushing for Britain's exit from the EU, said.
"Merkel has begun to paint the deal in humanitarian terms, (pointing out that since it came into force, only 9 people have drowned), to pre-empt human rights opposition. Officials here have shown some interest, behind the scenes, about possible compromise formulations on the anti-terror law," the ambassador reportedly wrote.
READ MORE: UK diplomats advised lifting visa regime for 1.5mn Turks to retain EU migrant deal – leaked cables
According to Wood, the German leadership hopes that this approach will keep the migrant deal "in play through the summer spike," with a "carefully fudged delay on both sides until October."
The agreement between Brussels and Ankara envisioned that 75 million Turks would be granted visa-free access to the Schengen zone from July 1.
Turkish President Recep Tayyip Erdogan has threatened to give up on the migrant deal and again allow hundreds of thousands of migrants to flow into Europe if the EU fails to live up to its promises.
The ambassador stressed that Erdogan is seen in Berlin as "an authoritarian bully who is trying to blackmail Europe."
Those views have only been strengthened by the Turkish leader's push for the prosecution of Jan Boehmermann, a German comedian who wrote an offensive poem about him.
Another leaked telegram, this time from the British ambassador to Turkey, Richard Moore, warned that the threats coming from Ankara are real.
Moore also suggested that Britain could "assess again the possibility of visa travel for Turkish special passport holders, which would be a risk, but a significant and symbolic gesture to Turkey."
Following the leak, the UK's Home Secretary and Foreign Secretary said it was "completely untrue" that the "UK is considering granting visa liberalization to some Turkish citizens."
Over a million people fleeing from wars in Syria, Iraq, Afghanistan, and elsewhere flooded into Europe in 2015, causing the largest migrant crisis faced by the continent in decades.
The uncontrolled flow has seemingly been stemmed since the EU and Ankara signed the migrant deal back March.
According to the agreement, Turkey should take back refugees seeking asylum in the EU in exchange for a multi-billion euro aid package and some political concessions, including the visa-free regime.