Wanted Pakistani Islamist makes calls to shoot down US drones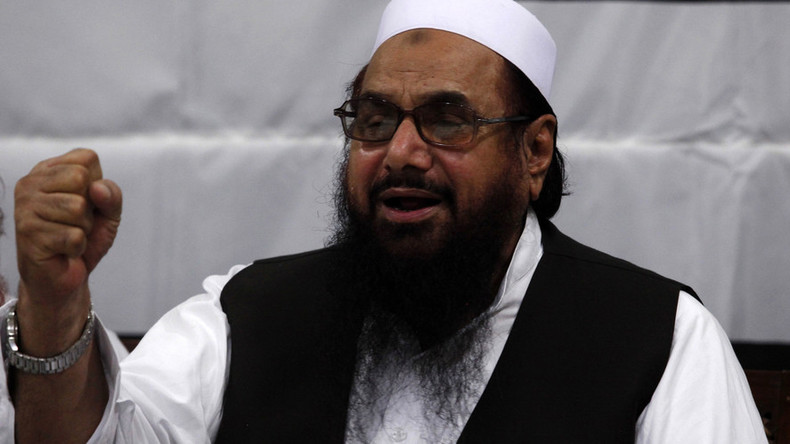 A Pakistani Islamist, internationally designated a terrorist, performed a sermon at a mosque in Islamabad protesting the recent killing of the Taliban chief in a US military drone attack and calling for any drones entering Pakistan's territory to be taken down.
Hafiz Saeed, declared a terrorist by the UN, and who has a bounty of $10 million on his head, led prayers in the Pakistani capital on Friday, Reuters reported.
He criticized the US drone attack in May that targeted the Afghan Taliban leader Mullah Akhtar Mansour and therefore demanded the Pakistani army bring down all of the US drones that happen to roam into the country's airspace.
"The US stands with India in their enmity towards Pakistan," Saeed said, addressing hundreds of people who gathered at a mosque after the sermon, according to Reuters.
"We want to request the army chief and make the air chief realize that it is their duty to shoot down any drone that comes into Pakistan and respond to it in kind."
The relations between the two countries have taken a chilly turn after the strike which Pakistan perceived as a violation of its sovereignty. The US special representative for Afghanistan and Pakistan arrived in Islamabad to discuss the matter only a month after the events following harsh statements made by Pakistani officials.
Although Saeed is wanted both in US and India and suspected of being behind a 2008 attack in India's Mumbai that claimed the lives of 166 people, he is influential among certain religious groups and is still running free and sometimes makes public appearances and pronouncements.
The Jamaat-ud-Dawa (JuD), a militant Islamist organization operating in Afghanistan and headed by Saeed, has planned a number of anti-US protests across major cities following the 21 May attack. Saeed is likely to take part in some of them as a speaker.
Meanwhile, Pakistan's General Raheel Sharif met on Friday with General John Nicholson, Commander of Resolute Support Mission in Afghanistan, and Ambassador Richard Olson, US Special Representative for Afghanistan and Pakistan, stressing the setback the US-Pakistani relations suffered as a result of the attack.
"Expressing his serious concern on the US drone strike in Balochistan as a violation of Pakistan's sovereignty, the (army) chief highlighted as to how it had impacted the mutual trust and respect," Raheel said, according to an Inter-Services Public Relations statement, Pakistan's SAMAA news channel reported.
"All efforts for durable peace in the region have to be synergised with shared commitment and responsibility in order to make them successful," the statement quoted Raheel as telling the American leaders.
You can share this story on social media: