Tel Aviv shooter cons way into policeman's home after gunning down victims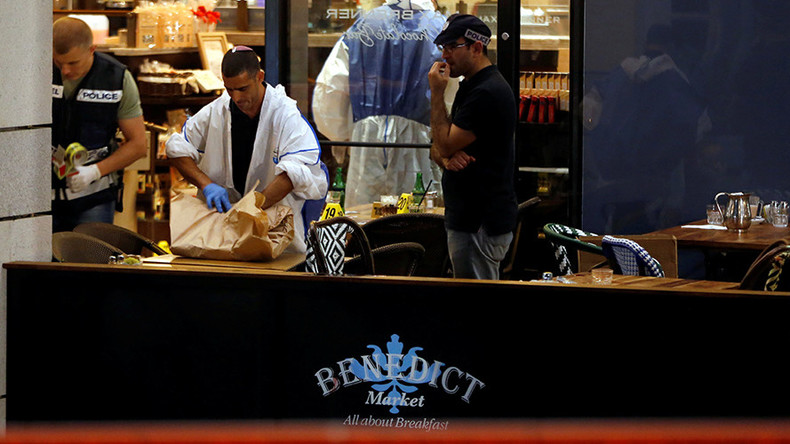 One of the two Palestinian gunmen who disguised themselves as Orthodox Jews during Wednesday's deadly shooting in Tel Aviv, took refuge in a police officer's home after the attacks. He even asked his unsuspecting hosts for water.
Four people were killed in the Tel Aviv terror attack at Sarona Market and several others wounded when two men opened fire in a shopping and restaurant area of the city.
The gunmen have since been identified as Khaled and Mohammed Mahamra, cousins from the town of Yatta in the West Bank, according to YnetNews. They have both been apprehended, with one of the pair still recovering in hospital from a police gunshot wound received in the immediate aftermath of the killings.
It has now emerged that the other sought refuge in the nearby home of a police officer before being arrested.
Israeli media are reporting that the son-in-law of ex-Police Commissioner Assaf Hefetz gave who he thought was a shocked witness some water in his apartment, only to later realize the man was a chief suspect.
The wife of the police officer described to broadcaster Channel 2 the bizarre and frightening moment her family inadvertently sat down with a suspected killer over a glass of water, report Haaretz.
The family reportedly crossed paths with the shooter close to the Cinematheque movie hall on HaArba'a Street as they fled the sound of nearby gunfire.
"We entered the apartment along with another man. He simply ran in with us. I asked him who he was. He didn't answer. He just asked for water."
The woman said her police officer husband then left with his weapon to investigate what had happened at the Sarona Market, less than 300 meters away.
However, on reaching the scene the unidentified Israeli cop was shocked to find that the wounded gunman was dressed exactly like the mysterious man sitting in his home and rushed home to arrest him.
"We were very lucky that he was so much in shock and of course unarmed," the woman told Channel 2. "The biggest fortune was that my husband realized very quickly who was home and returned. That was my biggest fear, that he would come home and everyone would be dead."
CCTV footage from the scene shows two men dressed in suits entering the Max Brenner restaurant carrying a briefcase just after 9.00 p.m. local time.
At approximately 9.30 p.m. the duo stood up from a table and began opening fire, reports Mako.
You can share this story on social media: