'War against terrorism': Assad vows to continue fight, crush dreams of 'fascist' Erdogan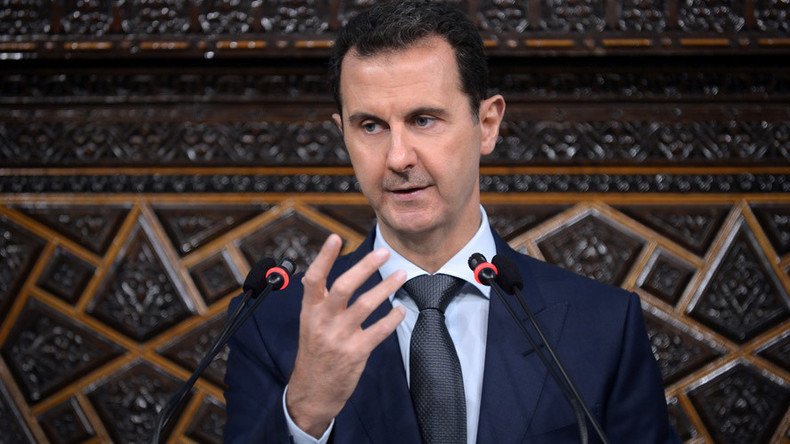 Syrian President Bashar Assad has vowed to continue the government's "war against terrorism," slamming the "fascist regime" of Turkish President Recep Tayyip Erdogan. The remarks came after Ankara reportedly sent troops to fight alongside rebels in Aleppo.
"Our war on terrorism will continue not because we like war. They imposed the war on us," Assad said in a speech to the newly-elected parliament on Tuesday, reiterating the role that foreign countries have played in Syria's five-year civil war. "The shedding of blood will not end until we uproot terrorism, wherever it is."
Assad also said he plans to win back "every inch" of Syria, and that Aleppo will be a graveyard for Erdogan's ambitions.
"Aleppo will become a tomb where all dreams and hopes of this butcher will be buried," the Syrian president said, as quoted by TASS.
"The fascist regime of Erdogan focused its attention on Aleppo as it was crushed in Syria and this is the last hope to implement its 'Muslim Brotherhood' Islamist project," he continued.
The Erdogan remarks come after the Syrian leader accused the Turkish president – a major supporter of those fighting to oust Assad from office – of recently sending thousands of insurgents to fight government troops in Aleppo.
Russia, which has been on a bombing campaign against Islamic State and other terrorist groups in Syria since September, said on Saturday that more than 2,000 militants had mobilized in the Aleppo area.
The city and its surrounding area – located on the border with Turkey – have been a focal point of the country's bloody civil war, divided between government and rebel control. Aleppo is Syria's second-largest city and former commercial hub.
Assad also blamed the opposition for its failure of three rounds of indirect peace talks in Geneva this year, calling his opponents "traitors for foreign countries who have become mats for the feet of their masters."
He went on to thank Russia, China, and Iran for the support they have provided to the Syrian government. He also expressed gratitude towards the Lebanese Shia Muslim group Hezbollah.
The Syrian president emphasized the strong ties between the alliance, particularly with Iran and Russia, saying it was stronger than ever. He stressed that people should not listen to reports about "differences, struggles, and divisions."
That statement came just one day after Moscow said it would provide "the most active" support to the government in order to prevent Aleppo from falling into the hands of terrorists.
The Syrian government has made advances since Russia began its aerial campaign, helping troops capture Palmyra in March.
"The way we liberated Palmyra and before that many areas, we will liberate every last bit of Syria from their hands. We have no choice but to be victorious," Assad said during his speech.
He went on to reiterate that he has no intention of backing down and allow a sectarian partition of Syria, something he said is against the fundamental principles of the country's constitution.
"A sectarian system turns the sons of the nation into enemies and foes," he said.
The speech came as the government continued an advance to capture IS strongholds on Tuesday, including Raqqa. Syria's air force also destroyed several IS positions south of Raqqa, according to the state news agency SANA.
Syria's civil war, which shows no signs of ceasing, has led to the deaths of more than 250,000 people and displaced over 12 million others, according to official UN figures.
You can share this story on social media: