10-yo Syrian girl to be operated on in Moscow after losing legs in Aleppo terrorist attack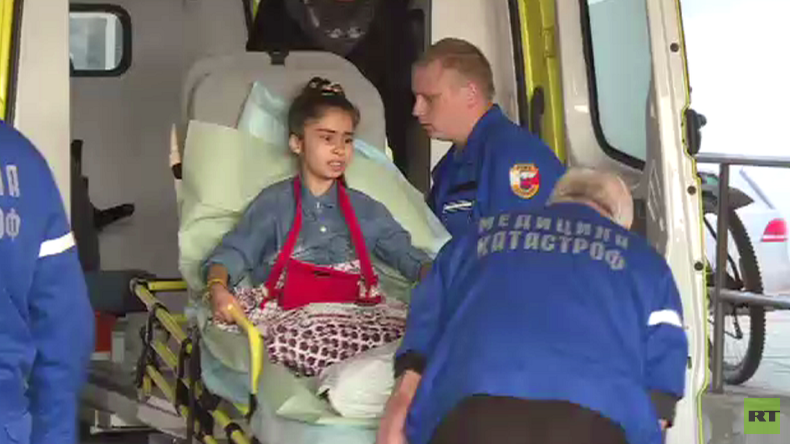 A ten-year-old girl from Syria arrived in Moscow to receive an operation after losing both of her legs in a terrorist attack in Aleppo. Russia's Defense Ministry transported the girl and her mom in from the Khmeimim airbase in Latakia province.
READ MORE: Over 100 killed as blasts hit near Russian military bases in Syria's Latakia province (VIDEO)
Sidra Zaarur successfully made it to Russia's capital and is due to receive bone realignment surgery on her legs in one of the city's hospitals.
"Both of Sidra's legs have been maimed. We were flown to Moscow to continue her treatment. Today she will receive a fulkerson procedure," the girl's mother told RT.
The request to bring 10-year-old Zaarur and her mother to Moscow was approved by Russian Defense Minister Sergey Shoigu. They were flown to Moscow in an Ilyushin Il-76 specifically equipped with an aeromedical unit.
Sidra was wounded in Aleppo on April 16 when she and her family were attacked by terrorists with "hand-made mortars that shot gas cylinders," according to Russia's Defense Ministry Press Service.
READ MORE: Militants shell Aleppo, killing 16, injuring dozens amid fragile Syria ceasefire
Sidra lost her three-year-old nephew and her older sister in the attack.
"Doctors in Aleppo have done everything possible to save the girl's life and keep her healthy, but she received severe physical and psychological trauma and requires further treatment and rehabilitation," the ministry's statement said.
Sidra's mom said she was thankful and hopes other families in similar circumstances will get the same opportunity to come to Moscow for medical help.
"The situation in Aleppo is very tough… [there are lots of] terrorist units," she said.
You can share this story on social media: