US 'working closely' with Russia to find those responsible for Idlib airstrike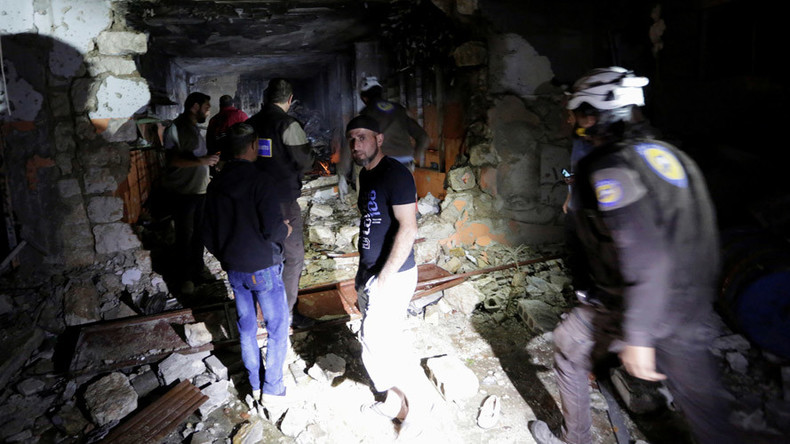 The Department of State did not back the accusations that Russian jets were responsible for airstrikes that killed at least 23 people in Syria's Idlib province, and said the US was working with Russia to figure out what happened.
"We're still looking into what happened in Idlib. We don't have a great sense of complete knowledge here of who's responsible," State Department spokesman John Kirby told reporters Tuesday.
"We're going to continue to work closely – inside the cessation of hostilities task force – with the Russians to try to figure out what happened here, and we'll take it from there," Kirby said. "Obviously, the images coming out of Idlib are very troubling. Obviously, the killing of innocent civilians is a violation of the cessation of hostilities, period."
Up to 28 people, including seven children, were killed in overnight airstrikes in Idlib on Monday, according to the London-based Syrian Observatory for Human Rights. The SOHR blamed Russia for the "heaviest bombardment there since a cessation of hostilities was agreed in February," according to Reuters, claiming that one of the bombing sites was next to a hospital.
The Russian Defense Ministry rejected the allegations.
"No combat missions, let alone delivering airstrikes, have been performed by the Russian Air Force in Idlib province," Major General Igor Konashenkov, Defense Ministry spokesman, said Tuesday.
Later in the day, SOHR reported that "unidentified" jets bombed a major Ahrar al-Sham camp in the Sheikh Bahar area of Idlib province, "leaving a large number of dead and wounded," according to Reuters.
The Turkish-backed Islamist group claimed responsibility over the weekend for the May 23 bombings in Syria's Latakia province, originally attributed to Islamic State (IS, formerly ISIS/ISIL). More than 120 people were killed in seven bombings in the coastal towns of Jableh and Tartus, areas loyal to the government in Damascus and near the Russian air and naval bases.
While the State Department confirmed it was aware of Al-Sham's claims, it maintained the group was still part of the Syrian ceasefire.
"As we said at the time, the attacks were deplorable and unacceptable. That's still the case today," Kirby said. While the International Syria Support Group is open to "rendering ineligible" a group that "consistently and persistently" violates the ceasefire, Al-Sham is still considered a party to the truce and targeting them would count as a violation, said the State Department spokesman.