At least 15 killed in Al-Shabaab hotel attack in Somali capital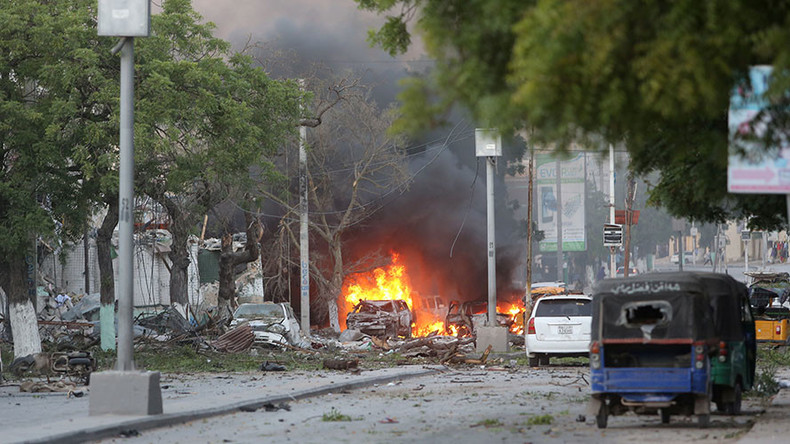 Militants from terror group Al-Shabaab have said they were behind a car bomb attack on the Ambassador Hotel in the center of Mogadishu, the capital of Somalia, in which at least 15 people were killed on Wednesday.
A suicide car bomber rammed a vehicle into a gate outside the hotel before sounds of gunfire rang out, Reuters reports, citing police.
"We targeted the members of the apostate government [...] We killed many of them inside and we shall give details later. Our mujahedeen are on the top floor of the hotel building," Sheikh Abdiasis Abu Musab, al Shabaab's military operations spokesman, told the news agency.
Authorities could not immediately verify the group's statement.
Mogadishu police said some militants had apparently entered the hotel premises.
"We suspect the militants are inside the hotel because we do not see occupants coming out of it," Major Ibrahim Hassan, a Mogadishu police officer said.
Police say 15 people have been killed so far, mostly pedestrians and passengers on the road, two of which were lawmakers. Some 20 more have been injured.
"Lawmakers Mohamud Mohamed and Abdullahi Jamac died in the hotel. They lived in it. Many other people including lawmakers were rescued. The [security] operation is about to end now. So far the death toll we have is 15 dead and 20 others wounded," Major Ibrahim Hassan, a Mogadishu police officer, told Reuters.
Police had previously put the death toll at 10.
State-run Mogadishu Radio reports that government forces are still at the scene rescuing people from the hotel.
A Reuters reporter at the site said sporadic gunfire could still be heard.
The Ambassador Hotel is frequented by government officials, business executives and foreigners.
READ MORE: At least 12 killed as Al-Qaeda-linked militants storm hotel in Somali capital

The attack comes on the eve of the Muslim holy month of Ramadan.
Al-Shabaab is an Al-Qaeda affiliate in Somalia, which primarily operates in the country's southern and central regions. The group opposes the internationally recognized Somali Federal Government, which is based in Mogadishu.
The group has targeted the Somali capital before, with 12 people killed when Al-Shabaab terrorists set off a car bomb near Mogadishu's SYL hotel in February.
Al Shabaab has also been behind deadly attacks in Kenya and Uganda. They have often targeted troops from the African Union peacekeeping force in Somalia.
Before Wednesday's hotel attack, Somali officials announced two operations against Al Shabaab militants. The head of the group's intelligence unit was reportedly killed in one of them, as well as the suspected mastermind behind the attack on a university in Kenya in 2015, in which 148 people died.
Al Shabaab had no immediate comment on the killings announced by Somali authorities.
You can share this story on social media: