'Exemplary intl relations:' Russia-China ties at their peak despite Western sanctions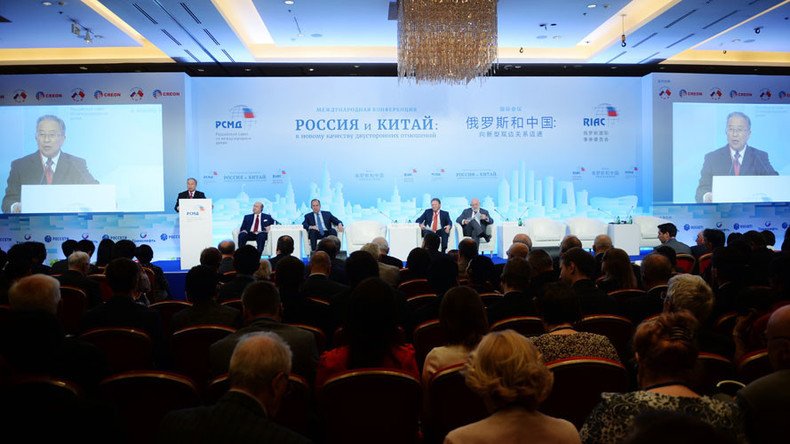 Russia and China have strengthened their cooperation and proved their partnership is vital despite Western sanctions and US disapproval of their strategic alliance, participants of the Russia-China forum in Moscow told RT.
The conference titled "Russia and China: Taking on New Quality of Bilateral Relations" took place on May 30 and May 31. It was organized by the Russian International Affairs Council.
"Together we can become a center that can influence global processes," Boris Titov, co-chairman of the Russian-Chinese Friendship committee and Russia's ombudsman for entrepreneurs' rights, told RT on the sidelines of the conference on Tuesday.
While securing funding in the West has become more difficult, the sanctions themselves do not pose a great challenge for Russia-China cooperation, as they do not affect mutual projects involving mid-sized and small businesses, according to Titov.
"We view sanctions as of little importance to the economy," stressed the ombudsman.
Huge markets for Russian goods have been created in China, especially environment-friendly products, which are high in demand.
"Politics always contradicts economic interests, business is far away from politics, we need honest and direct relations," the co-chairman noted, adding that one of the main obstacles to closer cooperation is the sprawling red tape afflicting both countries.
Taking into account China's vast experience living under sanctions, Russia and China "will be able to go through this period significantly better together."
READ MORE: 'US Cold War theory: Russia not allowed have influence in Europe'

For Russia, the expansion of economic activities into Asia, and East Asia in particular, is of crucial importance, as the region provides "significant opportunities" in terms of investment and trade, Yaroslav Lisovolik, chief economist at the Eurasian Development Bank, said.
Lisovolik said, given the West's apparent reluctance to remedy relations with Russia and Beijing, it will "simply start to lose investment and trade flows" to sanctions, seriously calling their long-term effectiveness into question.
Countries imposing indiscriminate restrictive measures that hurt mostly the broad masses, and not targeted at elites, "should be ready to take the price of sanctions" on their own economies, said Nandan Unnikrishnan, Vice President and Senior Fellow at the Observer Research Foundation in New Delhi.
"If you sanction me you cannot be my partner," the researcher stressed, adding that he thinks that sanctions remain "an impediment to the growth of closer economic ties" between China and Russia.
READ MORE: 'Greatest threat to peace & stability': Beijing criticizes US meddling in South China Sea region

The intertwined nature of US-China economic relations is forcing Chinese leaders to carefully examine all of the consequences before "the strategic embrace takes place between China and Russia," he observed.
Despite the complexity of relations in the US-China-Russia triangle, the potential for China-Russia cooperation is still "huge," as they share a common multipolar approach to international relations.
"Neither of the two countries want hegemony in the world – this combines Russian and Chinese interests at this stage," Unnikrishnan concluded.
In fact, this strategy has borne fruit in the Asia Pacific region as a whole, argues Li Yongquan, Director of the Institute of Russian, East European and Central Asian Studies at the Chinese Academy of Social Sciences (CASS).
"The development of China-Russia ties ensured stability in the region" for the past 20 years, which should serve as the example "for everyone else in the world" in terms of international relations.
Commenting on destabilizing factors in the region, the researcher blamed the US for the rising tensions over the South China Sea, some areas of which are contested between China and Washington's allies.
"In the past, South China Sea was never an issue. Some countries in the past recognizing China's sovereignty in the region have recently changed their stance," he said, noting that this is a "man-made problem" forged by the US.
Titov said that close cooperation between Russia and China is an irritant for the US, which has prompted its attempts to thwart a Russia-China strategic alliance.
However, "both Chinese and Russian leadership understand that we are better together and we are not so worried about America and its attitude to this issue."
Earlier at the forum, Russia and China agreed to increase trade from $90 billion this year to $200 billion within the next four years. Russian Deputy Prime Minister Arkady Dvorkovich described the ambitious goal as "challenging but realistic." China is Russia's second largest trade partner after the EU.
You can share this story on social media: