Emoji Bible for millennials: Online project offers 21st-century take on Christian centerpiece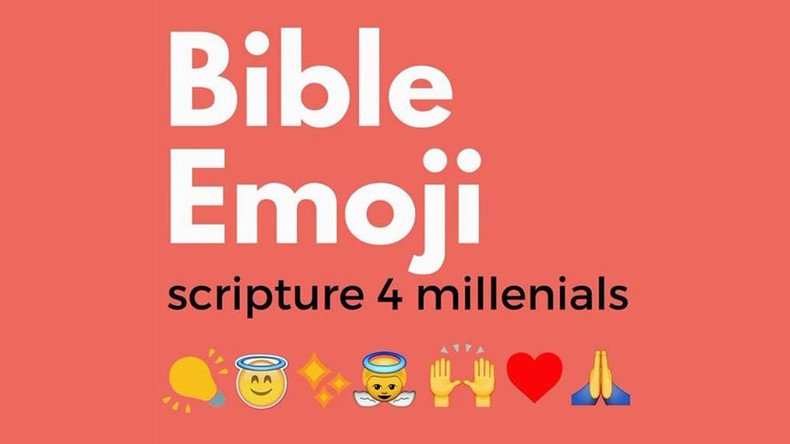 One of the world's oldest religious texts has just been revamped for the 21st century in order to attract atheist-minded millennials. The modern translation of the Bible includes emojis and popular internet slang. It is now available on iTunes.
The "Bible Emoji: Scripture 4 Millenials" was released on Sunday. It consists of all 66 books of the King James Version and is 3,282 pages long. The description says: "Great and fun way to share the gospel."
The author of the work remains anonymous, identifying only as the cool-dude-with-sunglasses emoji.
"I thought if we fast forwarded 100 years in the future, an emoji bible would exist," the project's creator told Guardian Australia. "So I thought it'd be fun to try to make it… I wanted to make it similar to how you might text or tweet a bible verse, by shrinking the total character count."
The author created a program that linked 200 words with corresponding emojis in the text. The whole process reportedly took about six months to complete.
Some of the most popular emojis include God, angels, the universe, earth, and prayer hands.
Most of the public response has been enthusiastic.
Some have taken offense, however, implying that the reason a large portion of millennials have chosen to walk away from religion has nothing to do with a lack of emojis in the Bible.
Millennials are generally classified as being born between 1980 and 2000, and the current mean age of a millennial is 26.
A high percentage of the generation is known to identify as atheist or agnostic. The latest Pew Research Center report from May of 2015 said that US millennials have a "much lower levels of religious affiliation, including less connection with Christian churches, than older generations."
Meanwhile, some millennials are disappointed that their generation is being associated with emojis and acronyms.
You can share this story on social media: