Six killed, 20 injured in roadside bombings in southeast Turkey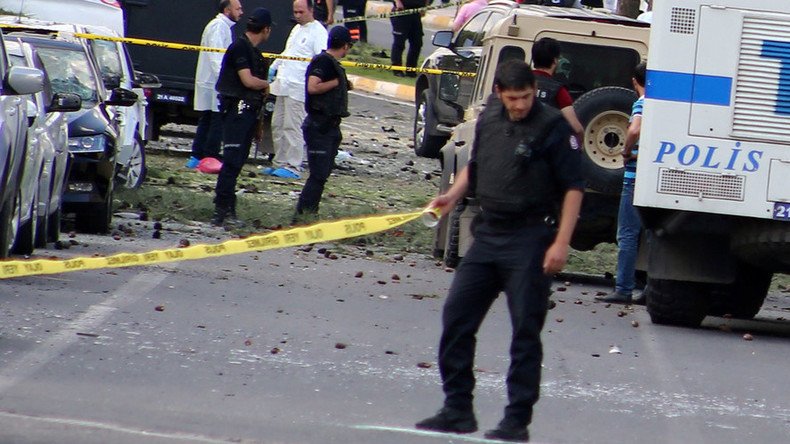 At least six people have been killed and 20 injured in separate explosions in the Turkish towns of Silopi and Van located in the southeastern part of the country, which is mainly inhabited by Kurds, media reports, citing security sources.
Both attacks targeted security forces.
Four civilians have been killed and 19 injured in an explosion in the Turkish town of Silopi, including five members of Turkey's security forces, according to state-run Anadolu news agency and Reuters, citing sources in law enforcement.
Local NTV television network reports that a hand-made explosive device was placed in a street sewer and detonated as a police car was passing by. It also reports that authorities suspect that the Kurdistan Workers' Party (PKK) is behind the attack.
Photos from the alleged scene of the blast have been posted online, but RT can't verify their authenticity.
The wounded have been taken to a nearby hospital by ambulance, some said to be in critical condition, local media report.
Silopi, located in Turkey's Sirnak province near the Turkish-Iraqi border, has been engulfed in fierce fighting between Kurdish fighters based in the southeast of the country and Ankara's security forces in recent months. Last year, Ankara launched an offensive against the Kurdistan Workers Party (PKK), which it considers to be a terrorist organization.
In a separate attack earlier on Monday, PKK fighters allegedly detonated a roadside bomb targeting a passing armored vehicle near the eastern city of Van. Two police officers were killed and a third was wounded in that explosion, sources in law enforcement said.
READ MORE: 3 killed, 45 injured after explosion rocks Diyarbakir, Turkey – governor's office

Another attack targeting Turkish police took place in southeastern city of Diyarbakir on May 10, when a car bomb exploded next to a police vehicle near the city center, killing three people and injuring some 45. Twelve policemen were wounded in that explosion, along with five jail inmates who were being moved while in police custody. A senior official said that some of them had been members of the PKK and may have been targeted for being suspected informants.
Meanwhile, on Monday, Turkish authorities partially lifted a curfew that had been imposed in Kurdish areas when intense fighting escalated between security forces and the PKK in December of 2015. The curfew was relaxed in the Yuksekova district and a village in Hakkari province as of 5 am on Monday. The curfews are to be loosened further during Ramadan, the Muslim month of fasting, which begins in June this year.
Turkey's Deputy Prime Minister Numan Kurtulmus said on Monday that some 6,320 buildings have been damaged amid the fighting in five southeastern Turkish towns populated by Kurds, namely Sur, Silopi, Cizre, Idil, and Yuksekova. According to the military, an estimated 500 Turkish security personnel have died in the operation against Kurdish rebels, while 4,900 PKK fighters have been killed in Turkey and northern Iraq. Human rights groups have repeatedly raised concerns over civilian casualties in the region, but the exact figures have been difficult to verify, as access to conflict areas in Turkey's southeast is limited.
You can share this story on social media: