Refugee reaction? Extremist violence 'explodes' in Germany in 2015, far-right crimes spike by third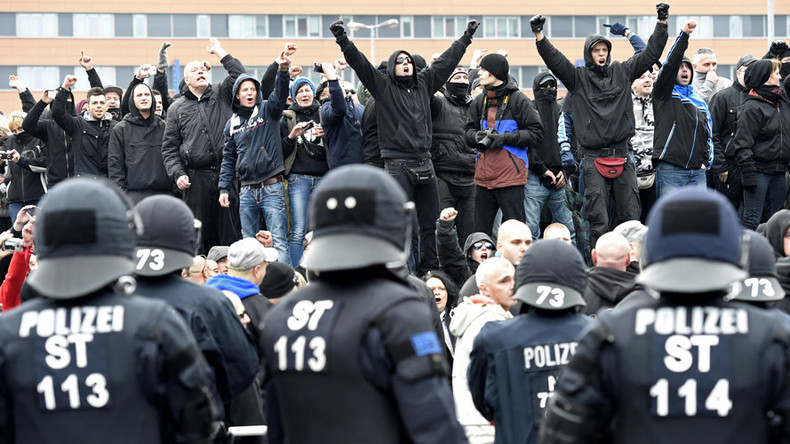 Crime statistics released by Germany's Interior Ministry on Monday reveals that 2015 beats all yearly records in terms of politically-motivated crimes and acts of violence. Authorities believe the figures reflect a deepening polarization of German society.
Although most of the recorded crimes are non-violent and deal with spreading extremist propaganda and inciting hatred, instances of violent crimes have also gone through the roof.
Total growth of politically motivated crimes has shown a 19 percent surge compared to the previous year, reports Frankfurter Allgemeine Zeitung.
An absolute majority (22,690) out of the total 38,981 politically-motivated crimes registered in 2015 were committed by far-right radicals, their activity growing by a third (34.9 percent). More than twice as little crimes (9,605) have been committed by the far-left troublemakers (18 percent growth).
Most of the people convicted for those crimes are young men aged between 18 and 30, who lived near the refugee centers and who had never been found guilty of a crime before, the Local reports.
Attacks on refuge centers alone have grown by five times, jumping from 199 recorded cases in 2014 to 1,031 in 2015, of them 94 arson offenses and eight offenses involving explosives.
These attacks include arsons and spraying of neo-Nazi symbols and swastikas on refugee center walls. Nine attacks out of ten have been committed by the far-right extremists, estimates Interior Ministry.
The violent political crimes in 2015 have increased by 30 percent, hitting 4,400 cases according to police records, of them 20 cases of attempted murder, including those of police officers and refugees.
Germany's Interior Minister Thomas de Maizière has had to acknowledge that extremism poses a threat to German society against the "practically exploding" figures of the official statistics.
"It is a sign of the polarization taking place in communities," said de Maizière. The minister revealed that police have encountered difficulties in identifying suspects with no previous criminal history.
De Maizière also conceded that when it comes to investigating attacks on refugee centers, the number of solved cases, 26 percent in 2015, was "too low."
The Islamists in Germany have also been increasingly active in 2015. The Bundeskriminalamt (BKA, Federal Criminal Police Directorate) estimates there are 497 "dangerous Islamists" living in Germany, Welt am Sonntag reported. A year ago there were some 270 extremist Islamists posing a terror threat in Germany.
It is believed that Islamic State (IS, former ISIS/ISIL) might activate some of its sleeper cells in Europe during the Ramadan, this year beginning early June, to stage attacks on military and civilian targets, reports Frankfurter Allgemeine Zeitung.
These attacks could also take place during the UEFA Euro 2016 football championship to be held in France from June 10 to July 10, 2016. The championship is expected to attract over 2.5 million visitors, preparing to attend 51 football matches.
Only six months ago a series of coordinated terrorist attacks on bars, cafes, a concert hall and a football stadium left 130 people dead in Paris.