Bill Clinton angers Poland & Hungary by saying 'US-freed' countries 'want Putin-like dictatorships'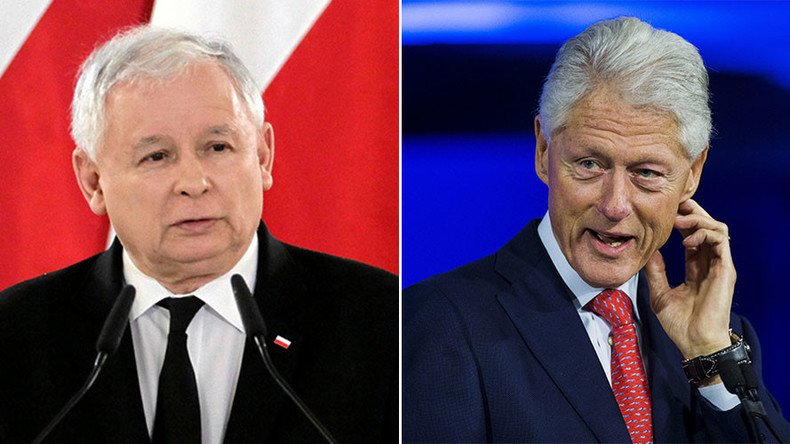 Former Polish PM and ruling party chair Jaroslaw Kaczynski slammed Bill Clinton for sharp remarks he made on the state of democracy in Poland, in which he claimed democracy had become "too much trouble" for it and Hungary.
Addressing a crowd gathered at an event for Democratic front-runner Hillary Clinton in Paterson, New Jersey on Friday, former US President Clinton alleged that the two ex-Eastern bloc countries would not have taken a democratic path themselves, claiming that if it had not been "for the United States and the victory in the Cold War," the two would not have become "free."
Clinton went as far as to suggest that Poland and Hungary "have now decided this democracy is too much trouble" and developed a penchant for authoritarianism just because the US' influence on those countries' domestic policies has since waned. He also claimed the two "want Putin-like dictatorships."
Poland's political establishment has recently been going through a turbulent time, with over 50,000 protesters taking to the streets of the capital of Warsaw in March to defend the Constitutional Court from a government crusade to reform it.
The Constitutional Court crisis began in autumn of 2015 after the Law and Justice Party (PiS) won the elections and re-appointed several of the court's judges that had been chosen by its rival party. PiS then passed a law raising the number of judges needed for the court to decide on the most complex cases from 9 to 13 – a move seen to impede the work of 15-member court. The court then ruled that those amendments were unconstitutional, but the new government refused to publish their verdict.
Former Polish Prime Minister Kaczynski, who is also the party's head, took the criticism of the former US president directly to heart, advising Bill Clinton to have his state of mind checked by a doctor.
"If anyone says there is no democracy in Poland, it means that he is in a state that you need to examine by medical means," Kaczynski told a briefing on Tuesday, as cited by TASS.
"I can say only one thing – that the media, various factors in the world, triggered a situation of a giant misunderstanding. Perhaps it affects the consciousness of the former president of the United States," he added, trying to downplay the sharp tone of Clinton's remark by offering his own explanation. "Otherwise, I cannot explain it to myself," he concluded.
READ MORE: Poland 'won't accept refugees because of threat to security' – Kaczynski
Rafal Sobczak, a spokesman for Poland's foreign ministry, also branded Clinton's opinion as "unfair," though he said they were understandable, given that "it was voiced in the context of the internal electoral campaign in the US." He pointed out in an email to AP, that Poland does not view his words as "the official position of the American administration."
Poland is considered to be one of the US' key military allies in Eastern Europe and is preparing to host a NATO summit this July. Its foreign minister, Witold Waszczykowski, recently labeled Russia "an existential threat," more serious than even Islamic State (IS, formerly ISIS/ISIL), while calling for more NATO troops to be stationed on the alliance's eastern border.
READ MORE: Poland's 'Russia bigger threat than ISIS' statement – 'absolutely ridiculous & dangerous'
Hungary was also outraged by Clinton's controversial remarks.
"No one, not even Bill Clinton, can allow himself to offend the Hungarian people in this way," Hungary's foreign minister Peter Szijjarto was quoted as saying by AP.
"Bill Clinton may not like the decision of the Hungarian people, but this is no reason for the former American president to offend them," he added.
Poland is ruled by a right-wing government in which Kaczynski's national-conservative Law and Justice Party holds the majority of seats. It has lately come under public criticism from the media and various governments for having a poor democratic record. The European Parliament even threatened to suspend Poland's voting rights in the EU last month and passed a non-binding resolution saying "Effective paralysis of the Constitutional Tribunal in Poland poses a danger to democracy, human rights and the rule of law," following PiS' attempts to sabotage the decisions of the Constitutional court.
You can share this story on social media: