Prison guards rampage through Brussels Justice Ministry demanding better pay & conditions
Hundreds of striking prison employees burst into the Belgian Justice Ministry as they continued their three week protest over poor pay and working hours. Dressed in red and green, the warders were eventually forced back by police in riot gear.
The demonstrators had thrown eggs and firecrackers at the Justice Ministry in central Brussels before managing to make their way inside the building. A number of windows were broken and a photocopier was thrown out of a window. They were met by riot police who used tear gas and batons to push back the protesters.
Belgian Justice Minister Koen Geens said he was appalled by the violent methods used by the prison staff.
He "regrets in the strongest words the destruction and the fact that staff at the reception of his office were in shock," a statement released by his office read, as cited by broadcaster VTM.
The statement also added that Geens had been more than willing to meet with the demonstrators, but they had rejected the opportunity to air their grievances.
On May 6, Geens said that the authorities would look to recruit an additional 405 prison officers in 2016 to help meet staff shortages, while extra pay for more flexible hours would also be available. However, the proposal was rejected by the prison workers, who argued that the proposals were not enough to solve their problems.
The strike by prison staff has affected 17 jails in French speaking Wallonia and Brussels, while the Flemish speaking parts of Belgium have not been affected. The strike started three weeks ago after Fracophone unions rejected staffing cuts that had been proposed by local authorities.
Read more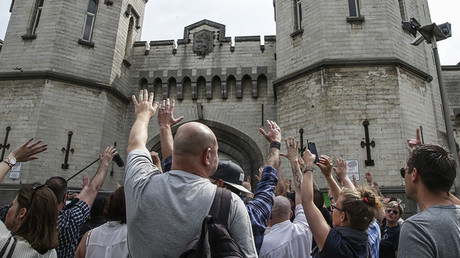 Belgium was even forced to call in the Army to help maintain order in its prisons, calling up six platoons of 30 soldiers.
Meanwhile, the president of Belgium's Human Rights League told AFP that the situation in Belgium's jails was "completely inhuman."
"The situation is nearly insurrectional, detention conditions have become completely inhuman," Alexis Deswaef said, adding that the prisoners had resorted to smashing up furniture and started fires to protest their living conditions.
Meanwhile, Vincent Spronck, the governor of Brussels' Forest prison, warned that "there is a lot of tension inside" and the "situation has become unbearable."
"The inmates can't go out, they are stuck in their cells all day, they aren't getting fresh air, the bed sheets aren't getting changed, they are not allowed any visits. We have to find a solution to this crisis," he said.
Prisons in Belgium are in a poor state compared to those of their European neighbors. A Council of Europe report released in March showed that Belgian jails were the second most overcrowded on the continent, with 129 inmates for every 100 places available. Only Hungary has a worse record in Europe.
At the Forest jail, there are 370 inmates for 280 places, and the situation is not atypical. Wealthier Flanders, where the federal government has not stepped in, has been entirely untouched by the crisis.
"This is a pressure cooker that is more likely to blow up every day, and the response of the federal government is not appropriate," said Marc-Jean Ghyssels, the Socialist mayor of the commune of Forest, who has introduced an extraordinary law that forbids prison overcrowding.