Pope Francis criticizes Western interference in Middle East, Africa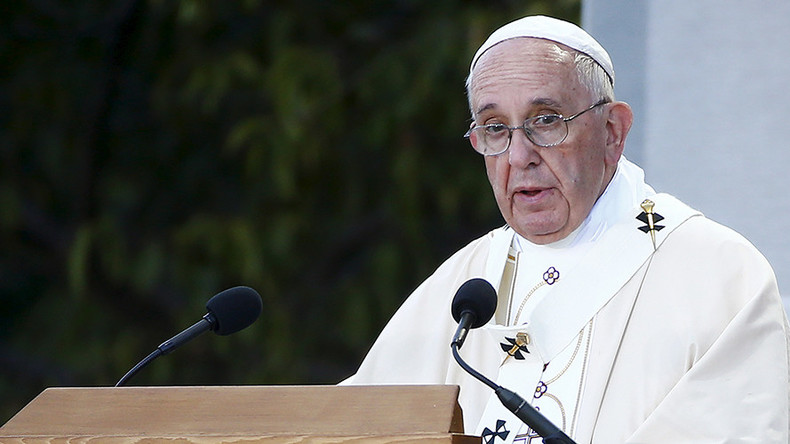 Pope Francis has criticized Western powers for attempting to export democracy to countries in the Middle East and Africa without paying attention to local political cultures. The pontiff was speaking to the French Catholic newspaper, La Croix.
"Faced with current Islamist terrorism, we should question the way a model of democracy that was too Western was exported to countries where there was a strong power, as in Iraq, or Libya, where there was a tribal structure," the pontiff said.
"We cannot advance without taking these cultures into account. As a Libyan said some time ago: 'We used to have one Gaddafi, now we have 50 of them!'" he added, pointing to how Western interference influenced the states he mentioned.
Libya's former leader Muammar Gaddafi was killed back in 2011, during an uprising that resulted in the Libyan Civil War, with NATO's military intervention bringing about the government's downfall.
The pontiff has often discussed Western policies, or "cultural colonialism" as he put it, criticizing these policies for attempting to impose Western values in exchange for financial aid.
As to the roots of these Western policies, the pontiff claims they barely stem from Christian values, as Europe has always been multicultural – and therefore multi-religious.
"We must talk about the roots in plural because there are so many of them. When I hear about the Christian roots of Europe, I sometimes fear the tone, which can be triumphalist or vengeful. This then becomes colonialism.
Europe, yes, has Christian roots, but in a spirit of service and washing of feet. The duty of Christianity for Europe is the service. And not colonization."
Speaking of the increasing number of migrants from Middle Eastern countries flooding Europe, Pope Francis said EU countries should treat immigrants better, touting the election of the new Muslim mayor of London as a successful step to take immigrants out of their cultural and social "ghetto."
"The worst reception is ghettoising them [refugees] as we must instead be integrating them. In Brussels, the terrorists were Belgians, children of migrants, but they came from a ghetto.In London, the new mayor [Sadiq Khan, a Muslim of Pakistani origin] was sworn in a cathedral and will probably be received by the Queen.
This shows the importance for Europe to regain its ability to integrate. I think of Gregory the Great [Pope from 590 to 604] negotiating with the so-called barbarians, who then integrated," the pontiff recalled.
He added that integration is ever-more necessary today, when Europe is experiencing a serious problem of low birth rate, due to what he dubbed "a selfish pursuit of well-being," stating that this might develop a demographic vacuum.
In April, the pontiff rescued 12 Syrian refugees, including six children, taking them on his plane heading back to Rome after he visited the Greek island of Lesbos. All of them were Muslims.
When asked about Europe's capabilities in accommodating the increasing number of migrants and refugees, Pope Francis said the main concern should be to stem the root causes that lead to such mass exodus from the Middle East.
"We can't open the doors irrationally. The basic question to ask is why there are so many migrants today. The initial problem is the wars in the Middle East and Africa and underdevelopment of the African continent, which causes hunger. [Also] this raises the broader issue of the global economic system falling into idolatry of money."
READ MORE: Islam does not belong in Germany, 60% agree with AfD
Addressing the fear of Islam among Europeans following the deadly terror attacks in France and Belgium, the pontiff said this concern actually comes from confusing the teaching of Islam with extreme interpretations of it.
"I do not think there is now a fear of Islam, as such, but of Daesh [Islamic State, IS, formerly ISIS/ISISL] and its war of conquest, driven in part by Islam. The idea of conquest is inherent in the soul of Islam, it is true.
But at the end of the Gospel of Matthew, where Jesus sends his disciples to all nations [to spread the word of God] could be interpreted with the same idea of conquest," Pope Francis reasons, stressing – not for the first time – that coexistence between different religions is possible and must be pursued.
"The coexistence between Christians and Muslims is possible. I come from a country where they live together in good familiarity. Muslims venerate the Virgin Mary and St. George.
In an African country I visited Muslims long queued at a cathedral to go through the holy doors and pray to Virgin Mary. In Central African Republic, before the war, Christians and Muslims lived together… And they must learn again today."
You can share this story on social media: