Pope Francis rescues 12 Syrian Muslim refugees, takes them from Greece to Rome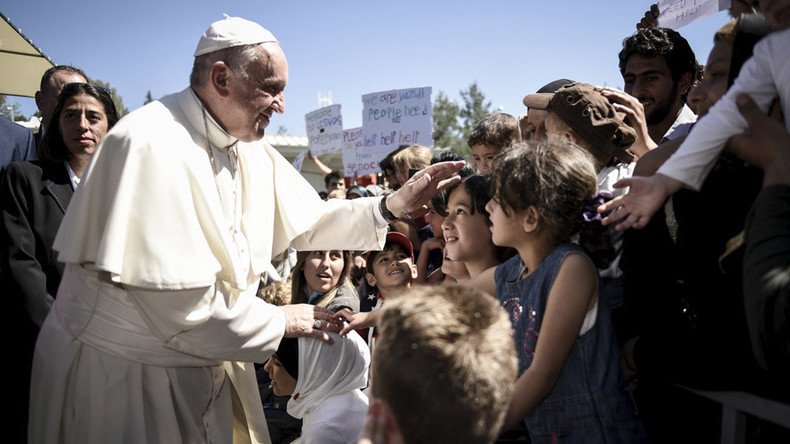 Pope Francis has taken 12 Syrian refugees, including six children, on his plane heading back to Rome following a visit to the Greek island of Lesbos, the Vatican said. All the asylum seekers rescued by the pontiff are Muslims.
"The Pope has desired to make a gesture of welcome regarding refugees, accompanying on his plane to Rome three families of refugees from Syria, 12 people in all, including six children," a statement from the Holy See press office said.
The Vatican added that those invited by the pontiff "were already in camps in Lesbos before the agreement between the European Union and Turkey."
In March, the EU struck a deal with Turkey, under which migrants and refugees reaching Greece from Turkey will be returned. In response, the EU agreed to take in thousands of Syrian refugees directly from Turkey.
"All the members of the three families are Muslims. Two families come from Damascus, and one from Deir Azzor (in the area occupied by Daesh). Their homes had been bombed," the director of the Holy See office said, referring to Islamic State (IS, formerly ISIS/ISIL) by its Arabic acronym.
The Vatican said it would take "responsibility for bringing in and maintaining the three families."
On Saturday, the 79-year-old Pope paid a visit to the Moria refugee camp on the Greek island of Lesbos, which hosts nearly 3,000 asylum seekers.
READ MORE: Pope Francis calls on every European parish to host a refugee family
"You are not alone," the pontiff told the crowds who gathered to greet him. "Many of you felt forced to flee situations of conflict and persecution for the sake, above all, of your children, your little ones. You have made great sacrifices for your families."
He added that as people of faith he and the bishops "wish to join our voices to speak out on your behalf.
"We hope that the world will heed these scenes of tragic and indeed desperate need, and respond in a way worthy of our common humanity."
READ MORE: Leaving migrants to die at sea is comparable to abortion – Pope Francis
Migrants were seen kissing the Pope's feet and hands. Both adults and children broke into tears, begging the Argentinian pontiff for help.
"Freedom, freedom," the people were heard chanting.
"This is like Guantanamo. We just want to leave," Ahmed, a 29 year old from Iraqi city of Mosul, told Reuters.
"This is a trip that is a bit different than the others ... this is a trip marked by sadness," Francis later told reporters. "We are going to encounter the greatest humanitarian catastrophe since World War Two. We will see many people who are suffering, who don't know where to go, who had to flee."
READ MORE: Pope Francis: Exploitation of migrants for profit 'makes one cry'
Pope Francis has repeatedly urged the EU to deal with the biggest refugee crisis since the WWII. In September 2015, he called on every European parish to host one refugee family each in a goodwill gesture that will begin in the Vatican state.
In June 2015, he said that the mistreatment of asylum seekers "makes one cry," as they are merely "victims of injustice, of this throw-away economy" and war.
Earlier that month, the pontiff said that leaving migrants to die at sea is an "attack against life" comparable to abortion or euthanasia.
You can share this story on social media: