West has own vested interest in cooperation with Russia on tackling major crises – German FM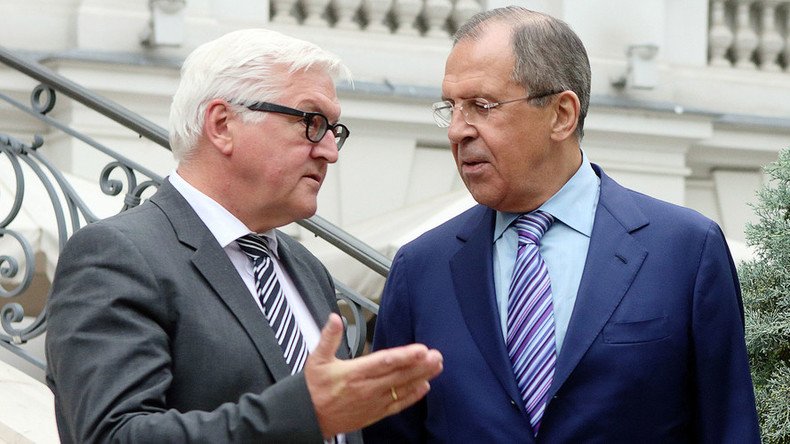 Germany's FM has once again stressed the importance of Moscow's role in dealing with the world's most serious conflicts and crises. Saying that "isolation" is not a policy, Frank-Walter Steinmeier predicted that Russia's "involvement" might be necessary to stabilize Libya.
Speaking about Moscow's role in the success of a historic nuclear deal with Iran, as well as of its achievements with the ceasefire in Syria, the German politician told Der Tagesspiegel that Europe and other nations "need Russia in tackling major international crises."
"Particularly the direct talks of Americans and Russians have brought a very significant reduction in violence [in Syria]," Steinmeier said, adding: "I venture to predict, in the efforts to stabilize Libya, we will also need Russia's involvement."
While some Western politicians tent to portray Moscow's participation in "certain" international forums and groups "as a gift" to Russia, they "forget sometimes that it is also in our interest to bring Russia into an international community of shared responsibility," Steinmeier told the German publication.
"In times of crisis there are important formats in which we can... return to the negotiating table. There are no convincing historical examples which show that isolation has brought us peace in the world," he added, saying that it's in the interest of the international community to bring Russia back into the G8 group.
READ MORE: Better late than never: German FM delayed on way to G7 meeting, says he wants Russia back in group
Germany's top diplomat also said that when the EU's anti-Russia sanctions expire this summer, it will be far more difficult for the bloc to find common ground on the issue, as more of its members are now resisting the prolongation of the restrictive measures.
Russia has not been part of the now-G7 since March 2014, in light of the Ukraine crisis and Crimea's referendum which led to its reunification with Russia. The group of Great Britain, Germany, Italy, France, Japan, Canada and the US has decided not to have a planned G8 meeting in Sochi and gathered as G7 in Brussels instead.
Meanwhile Moscow has been focused on working with other formats that better reflect the real balance of forces in the international arena, instead of gatherings of seven or eight which, according to the Kremlin, have been rendered ineffective in resolving the world's problems. At the same time, efforts have been made to establish political dialogue in regional formats, with the Minsk agreements having been intended to end the conflict in southeastern Ukraine after being worked out by the so-called Normandy Four – Russia, Ukraine, France and Germany.
You can share this story on social media: