Strict ID laws, Latino-discriminating barriers may affect presidential election – reports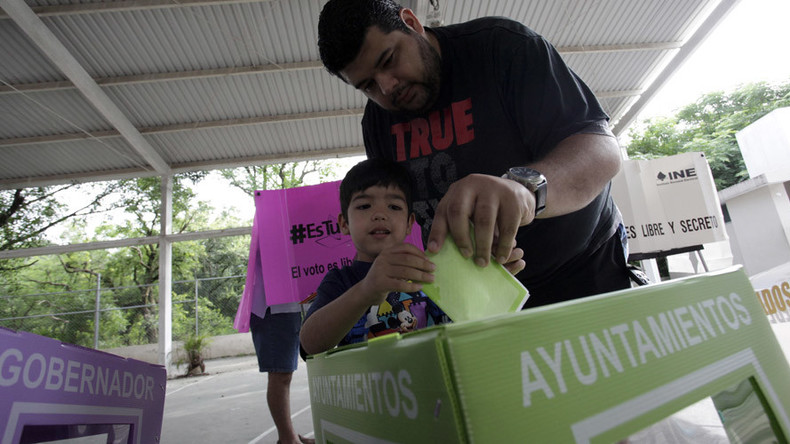 Strict voter ID laws and other election barriers could seriously undermine the US presidential election, two separate reports have revealed. One warns that as many as 875,000 Latinos may be affected, while the other unveils Wisconsin's voting troubles.
The two reports were prepared and released separately this week, one by the Latino advocacy group NALEO and the other the League of Women Voters of Wisconsin.
NALEO's study focuses entirely on the Latino population across the US and its ability to cast ballots in the upcoming general election in November.
According to the group, new laws and restrictions are making it extremely difficult for eligible Latinos to vote both in-person and by mail. Since 2012, 19 states have "created new barriers" which affect not only Hispanic, but other voters.
"In sum, we estimate these laws could seriously impede more than 875,000 Latinos who are eligible to vote from participating in the 2016 Presidential election," NALEO has warned in the report titled "Latino Voters at Risk: Assessing the Impact of Restrictive Voting Changes in Election 2016."
These states include Alabama, Arizona, Arkansas, Indiana, Kansas, Kentucky, Mississippi, Montana, Nebraska, New Jersey, New Mexico, North Carolina, North Dakota, Ohio, Tennessee, Texas, Utah, Virginia and Wisconsin.
Those states that saw a greater Latino population growth were more likely to implement restrictive changes. Thus, for example, the nine states that saw more than a 100 percent increase in their Latino populations between 2000 and 2010, six – Alabama, Arkansas, Kentucky, Mississippi, North Carolina and Tennessee – have implemented new provisions since 2012.
Some states have imposed serious obstacles to voter registration, while others created discriminatory restrictions, such as the addition of voter ID requirements, shortened early voting periods and changes to absentee ballot policies.
There are a total of eight million Latino voters, nearly one in every three members of the Latino electorate, who are vulnerable to restrictive changes in the law. The report stresses that those Latinos live in areas that "have been freed from oversight, in spite of their documented histories of adopting practices that discriminate against minority voters."
It is not only Latinos who risk missing out on their opportunity to cast ballots in November. The report by the League of Women Voters of Wisconsin (LWVWI) showed findings from 103 volunteers who observed the April 5 presidential primary in 202 polling sites across Wisconsin.
"The polling sites were selected by the organizers of this program in an effort to understand how the changing election laws would affect voters and Election Day processes," the LWVWI said.
It appears, the study shows, that students and elderly voters are those hit harder by new restrictions and recently imposed changes.
"There is a strong statistical significance related to student polling sites, long registration lines, and greater confusion over proof of residence," the report said.
Local students had trouble getting registered to vote when trying to use their proof of enrollment as proof of residence. The so-called voter ID law, signed by Gov. Scott Walker (R) in 2011, makes the vast majority of student IDs from the state's colleges and universities invalid for voting.
In such a case, students had to obtain an additional card from a campus office. However, this year it appeared that their university or college letters were addressed to their parents' or home addresses rather than their school resident addresses.
In addition, the law also required students to bring more documents to the polls, including proof of enrollment, that were not required of other voters.
"Wisconsin lawmakers really made it difficult for students to vote, and students really took a hit this year," Andrea Kaminski, executive director of LWVWI, told ThinkProgress. "There were long lines to register, long lines to vote, and long lines for students to get the kind of ID they need."
The ID law affected more than just students. According to the report, at least 183 people were turned away from registration as they lacked proper documents. Over 300 individuals failed to register or vote, because their proof of residence appeared to be invalid.
"In Milwaukee, an elderly veteran came in to vote over the lunch hour. She lacked an acceptable photo ID. The Chief Inspector was away at lunch and no other election official knew how to issue a provisional ballot. The woman walked away without voting," the report said, citing volunteers' observations.
Part of the reason why the voting was harder is that election officials had not been properly trained. At more that 30 polling sites, LWVWI volunteers noted confusion among election officials about whether or not a current address was supposed to be on the ID.
Following a number of lawsuits challenging the state's law, Gov. Walker approved an emergency change this week. It would allow residents to present receipts from the DMV as voter ID, if they are unable to obtain the ID itself in time for election day.