No visa-free regime for non-compliant Turkey – German Interior Minister De Maizière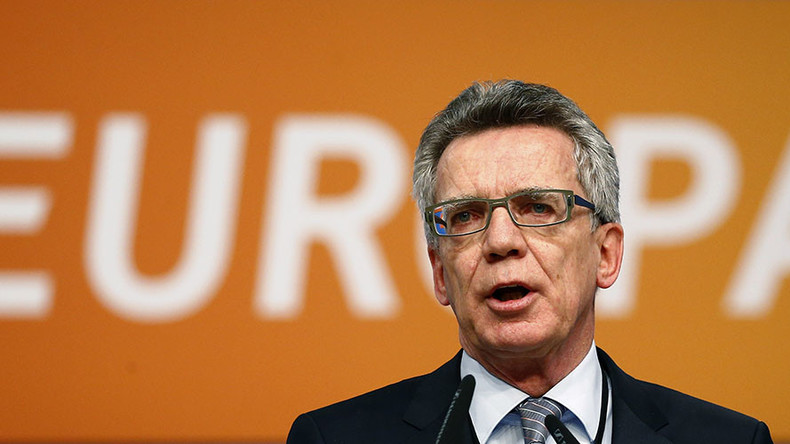 Turkey won't get the promised visa-free deal with the EU if it fails to comply with 72 conditions Brussels set for it, the German interior minister has reportedly said. Ankara rejects some of them, such as demands for changes to its anti-terrorism law.
The Turkish president doesn't look "ready to meet the criteria," said Interior Minister Thomas de Maizière, adding that if the European conditions aren't met, "then there will be no visa-free regime." The minister's comments came during a meeting of his party in Berlin on Tuesday, according to a Bild newspaper source.
Turkey was promised that visa restrictions would be lifted in exchange for helping the EU to tackle the ongoing refugee crisis. Ankara sees it as a step towards full membership of the union, a goal that has eluded Turkey for decades.
However, the country refuses to make some reforms the Europeans want to see before allowing Turks to visit the EU without restrictions. In particular, Ankara doesn't want to bring its controversial anti-terrorism law in line with European standards.
"European countries continue to be safe havens for the political extensions of terrorist groups. When this is the case, it's a piece of black comedy that the EU criticizes our country over the definition of terrorism," Turkish President Recep Tayyip Erdogan said in Ankara on Tuesday.
This stance is causing concern in Berlin and Brussels. The European Parliament's Committee on Civil Liberties rejected a call from the European Commission to fast-track approval of a visa-free regime for Turkey.
"There will be no discussions on visa liberalization before the 72 points have been met," Manfred Weber, a member of the committee told Focus.
"We are not asking for more than what was agreed to in the refugee deal," he added.
Under the deal Turkey would take back refugees seeking asylum in the EU in exchange for a multibillion euro aid package and some political preferences, including the visa-free regime.
Critics of the deal cite Turkey's poor human rights record and say the EU would be violating its own laws by sending asylum seekers to a country where they would be in jeopardy. This week Human Rights Watch reported that Turkish border guards are continuing to shoot at refugees trying to enter the country from Syria.
READ MORE: 'Truly appalling': Turkish border guards continue to shoot Syrian refugees, HRW says
"Firing at traumatized men, women, and children fleeing fighting and indiscriminate warfare is truly appalling," the rights group said in a statement.