4 members of satirical street group, mocking president, arrested in Egypt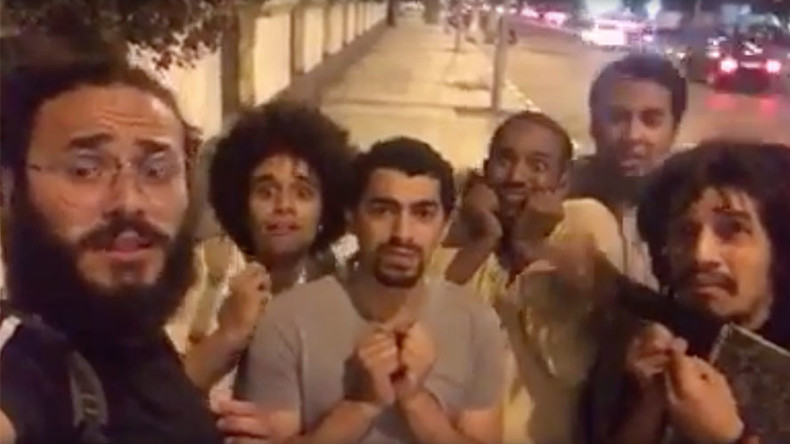 Four members of a satirical group, the 'Street Children', have been detained in Egypt. The group has been busy posting videos mocking current political events and the country's leaders, including President Abdel Fattah el-Sisi.
The street satirists were arrested on Monday and face charges of inciting protests and insulting state institutions, according to Mahmoud Osman, one of the group's lawyers, who spoke to AP.
The Awlad el-Shawarea (Arabic for Street Children) group sprung to online fame in January, when they released their first satirical video. All participants are aged between 19 and 25.
Their most recent video is titled, "Sisi, my president, made things worse". Another of their clips mocks Sisi's trademark way of ending speeches: "Long live Egypt!" and the manner in which he refers to his mother's advice of "never coveting what belongs to others."
The four members of the group arrested on Monday are Mohamed Adel, Mohamed Dessouki, Mohamed Gabr and Mohamed Yehia.
The fifth and youngest group participant - Ezz El-Din Khaled, 19, - was detained on Saturday. He was released on bail on Tuesday, according to Ahram Online.
One more participant, Mohammed Zein, was not arrested, the lawyer added.
READ MORE: Egyptian court sentences 188 to death for attack on police
The former military chief Abdel Fatah el-Sisi, came to power in May 2014 after a landslide victory. However, Egyptian media are now pushing back against Sisi, criticizing undelivered promises in his reform plan. There are clear signs of discontent with the once popular leader.
The president is accused of cracking down on the country's activists and censoring the media.