France to create de-radicalization centers for would-be jihadists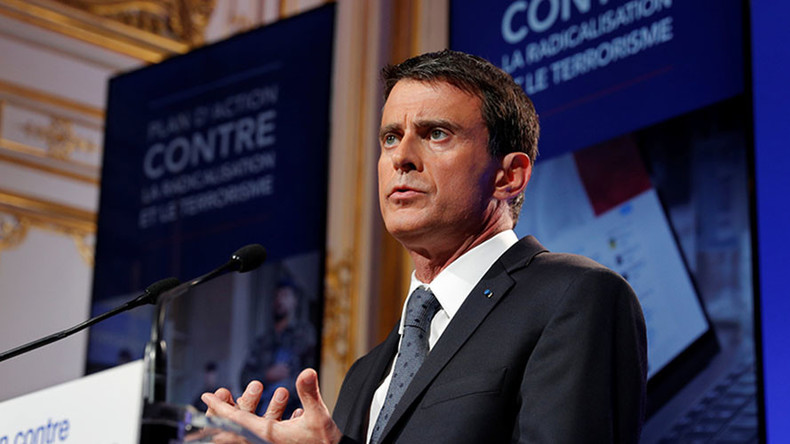 France is planning to open centers for preventing the would-be jihadists from joining the terrorists' ranks and to de-radicalize the extremists, French Prime Minister Manuel Valls has announced.
"Every era has its challenges. The fight against jihad is the great challenge of our generation," Valls wrote on Twitter on Monday, presenting a plan of new anti-terror measures.
According to the prime minister, France should be "moving up" to prevent and track radicalization.
READ MORE: Most European ISIS fighters come from France, Germany, UK – study
"635 French nationals have been identified [fighting alongside terrorists] in Syria and Iraq," he wrote on Twitter, "244 people returned to France after staying [with extremists]."
The first de-radicalization center may be opened this summer, said Valls, without giving addition details about where exactly in France it will be established.
Rehabilitation centers for "radicalized individuals" or for would-be jihadists will be created in "every region" of France by the end of 2017, Valls said, as cited by RTL TV.
READ MORE: 'Lost, frustrated, suicidal youths': Journalist infiltrated ISIS-linked cell plotting French attacks
Apart from currently funding anti-terrorist activities in the country, France is planning to spend additional 40 million euros on the measure by 2018.
France is considered to be the primary country of origin for the people who left to fight for Islamic State terrorist group in the Middle East, according to a research conducted by the International Centre for Counter-Terrorism (ICCT) published on April 1. The study says that more than 900 French citizens traveled to Syria and Iraq to join the extremists.
The report also adds that the "overall number of radicalized French nationals or residents involved in jihadist networks but not necessarily having traveled to Syria [and] Iraq is estimated to be close to 2,000."
Deadly terror attacks rocked Paris on November 13, 2015, killing over 130 people and injuring hundreds of others. Three suicide bombers carried out an assault near the Stade de France in Saint-Denis, which was followed by suicide bombings and mass shootings at cafés and restaurants. Of the 130 victims, at least 89 were killed in the Bataclan theater, where the jihadists took hostages before engaging in a stand-off with police officers.
READ MORE: At least 400 ISIS fighters trained for attacks on Europe – report
The majority of Paris attackers were either from France or Belgium.
Earlier, in January 2015, two gunmen attacked the HQ of satirical newspaper Charlie Hebdo, killing 12 people. The perpetrators, Cherif and Said Kouachi, were French citizens.
You can share this story on social media: