Green on blue attack: 2 NATO soldiers killed by shooters dressed as Afghan troops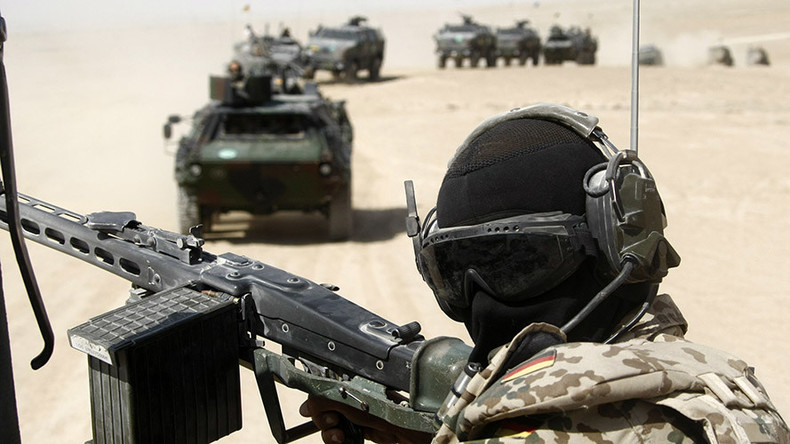 Two members of NATO's Resolute Support mission have been killed in southern Afghanistan by men in Afghan uniform. The assailants shot the soldiers before they were killed themselves, according to a statement from the mission.
"Two Resolute Support service members died this morning when [individuals] wearing Afghan National Defense and Security Forces (ANDSF) uniforms opened fire at an ANDSF compound in Southern Afghanistan," the statement from the mission read, as cited by Afghan based Khamaa news.
According to the statement, both Afghan and NATO mission officials have launched investigations into the incident and will make their findings public when they deem appropriate. It added that the mission does not regard the incident as a danger to the mission's work in the region, which it promises to continue.
"We continue to train, advise, and assist the ANDSF, and do not view this incident as [a danger] to the positive relationship between our forces," the statement said.
Both deceased soldiers were Romanian nationals, a statement from the Romanian Defense Ministry said, while explaining that the incident took place while the men were training Afghan police in the southern city of Kandahar.
Some unconfirmed reports state that Taliban insurgents have claimed responsibility for the attack. Last month they vowed to launch "large-scale attacks" across Afghanistan at the end of spring as part of an annual "Spring offensive." Dubbed "Operation Omari" for late Taliban founder Mullah Mohammad Omar, the offensive is to include assassinations of "enemy commanders," according to a statement from the Islamist group.
This is not the first time Afghan troops or police have turned their guns on representatives of international forces while fighting alongside NATO troops in the region. In the most case, which took place in April, at least five members of Afghanistan's border police were killed in an insider attack in Kandahar when a colleague opened fire on them before fleeing to the Taliban, according to government officials.
NATO commanders say that one-third of the country is at risk from Taliban insurgents, while government forces have no more than 70 percent of Afghan land under control.
The alliance rolled back its combat mission in Afghanistan in December of 2014, when the majority of NATO troops were sent home. Some 13,000 soldiers have stayed on to train the ANDSF and help in their fight against terrorism.
President Obama is mulling over a plan to cut US forces in Afghanistan even further, to 5,500 soldiers by early 2017 (down from the current 9,800 US troops.) If he succeeds, the reduction in US soldiers would signal the end of most of NATO's training and assistance operations, leaving the remaining troops to focus on counter-terrorism operations against radical groups, such as Islamic State (IS, formerly ISIS/ISIL).